Don Parties On
By David Williamson. Canberra Repertory. Directed by Aarne Neeme. Theatre 3, Acton, Canberra. 2–17 August, 2013.
Being a Williamson play, this sequel to Don's Party was bound to be clever. By turns catty, conciliatory, witty, and philosophical, it raises the most pressing political question of our time in the context of the 2010 federal election and somehow manages to focus equally on peeling open that most common but most delicate of human foibles, sexual attraction.
The election results are being tallied, and the main players from the 1969 (Don's Party) election party reunite, inviting recriminations, confessions, and advice for members of a new generation susceptible to the universal life mistakes, as well as respect for an even younger generation with fresh disrespect for the hypocrisy of its elders.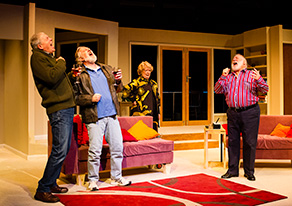 The play is indeed clever, but it could be a little tighter; repetition of even eight or ten lines becomes noticeable. Still, the actors here are by and large a seasoned bunch, and Len Power (as Cooley) and Liz St Clair Long (as Helen) delivered particularly convincing performances. And although, in the early show I attended, many of the cast delivered their roles too emphatically, once they relax into them, the play is sure to work beautifully, and even the repetition won't jar.
This is a play that, as many other Williamson plays are, is worth seeing for its philosophical nuances, its intergenerational truthfulness, its lessons in ultimate moral and political integrity. Rep's fine staging of it, with its beautiful set, subtle lighting, and terrific sound design, offers a worthwhile introduction to the culture of science denialism arising in our midst in the name of science and of skepticism, as well as to the refreshing minds that call that denialism for the convenient hypocrisy that it is.
John P. Harvey
PREVIEW AND READ THE SCRIPT HERE.
Images: (L–R) Sam Hannan-Morrow, Pat Gallagher (at back), Anne Mewburn-Gray, Judi Crane (at back), Isha Menon, and Peter Robinson, & Peter Robinson, Pat Gallagher, Liz St Clair Long, and Len Power, in Don Parties On. Photographer: Cliff Spong. Photographer: Cliff Spong.