Don's Party
By David Williamson. Director: Jeff Hansen. Melville Theatre, Palmyra, WA. July 1 to 16, 2011.
With the director of the reigning Finley Award winning production at the helm, and a well-respected cast, Don's Party promised to be worth seeing and it did not disappoint.
From the moment we glimpsed the beautifully recreated late sixties home, beautifully finished with groovy ring of truth detail, and saw Val Riches' gorgeous costumes, you could tell that this was going to be a well-rounded production, that took us back to election night in 1969.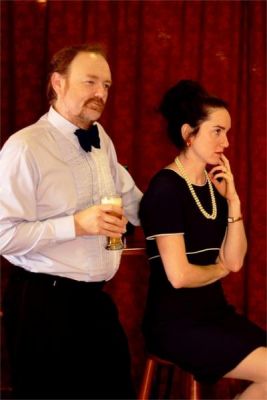 Thoughtful direction and well considered casting led to believable characters. Jarrod Buttery's Don and his mates were lecherous but likeable, with Phil Barnett's Cooley and Murray Jackson's Mack making the most of laughs. Chris Greenwood's grumpy Evan, Rod Short's Mal and Jeff Watkins' Simon were also beautifully played.
Angela Johnson, a recent return to Perth, was lovely as hostess Kath, while Megan Palinkis flounced nicely as overdressed Jody. Maree Graydon brought depth to bitchy Jenny, Laila Gampfer was confident as stunning artist Kerry and Breeahn Jones shone as sexy, young vixen Susan.
A well-knitted ensemble that partied happily and energetically through the matinee I viewed. A quality production that certainly won my vote.
Kimberley Shaw
Images: (Top) Phil Barnett, Jarrod Buttery, Jeff Watkins and Rod Short. (Lower) Jarrod Buttery and Angela Johnson
To keep up with the latest news and reviews at Stage Whispers, click here to like us on Facebook, or follow us on Twitter.