Double Bill: Bluebeard's Castle & Il Segretto Di Susanna
State Opera of South Australia. Directed by David Lampard. The Opera Studio. April 17-18, 2015
The State Opera of South Australia (SOSA) opens its 2015 season with this intriguing double bill of two one act operas – Wolf-Ferrari's comic Il Segretto Di Susanna and Bartok's tragic "Bluebeard's Castle" – which explore the importance of trust in married relationships.
"Susanna" is a merry comedy of errors, in which a recently married Count (Joshua Rowe) suspects his adoring wife (Naomi Hede) of infidelity due to her illicit smoking habit. Wolf-Ferrari's catchy score is given a sprightly arrangement for piano by David Barnard, Rowe & Hede have a warm chemistry (both vocally and dramatically) and director Lampard's energetic approach to choreography adds extra layers to the comedy. Rod Schultz is a scene stealing delight as the couple's long-suffering, mute butler.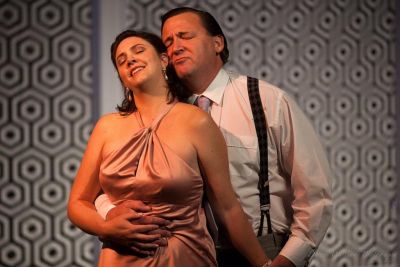 The Bartok piece is less effective, but that is due to dramatic weaknesses in the source material (which lays on the foreshadowing of Bluebeard's murderous nature too heavily, too early in the proceedings), rather than anything specific to this production. Jeremy Tatchell brings the right mix of brooding anguish and violent menace to the role of the legendary murderer, and Deborah Johnson convincingly portrays the innocent devotion of his latest doomed bride. The quality of their singing commands the audience's attention, as do the trancelike movements of Hede, Alexandra Gard and Daniela Taddeo as the ghosts of Bluebeard's previous wives. Daniel Barber's eerie lighting design is enormously effective in establishing an atmosphere of profound dread.
Overall, this is a first class production, that seems to hint 2015 could be a very good year for SOSA.
Benjamin Orchard
Images: Bluebeard's Castle - Jeremy Tatchell and Deborah Johnson & Susanna's Secret - Naomi Hede and Joshua Rowe. Photographer: Darren Williams