Double Trouble
Mozart and Bach at Play. Endangered Productions. Barnet Long Room, Customs House. 18 - 20 June, 2021
As its title suggests, this production is about fun as well as music. Producers Christine Logan and Peter Alexander have translated and adapted two short comic operas by Mozart and Bach to present a program that reveres the music of the two maestros as well as highlighting their delightful takes on romance and relationships.
Bastien and Bastienna is Mozart's short parody of the opera Le devin du village by Jean-Jacques Rousseau. When Bastienne thinks that Bastien has left her for another woman she seeks advice from Colas, a soothsayer, who suggests that playing hard-to-get will win him back. Logan and Alexander have cleverly reset the scene in the 1950s and made Colas a Freudian psychiatrist, adding a satirical touch that is wryly effective.
Bach's Coffee Cantata, written in the 1730s, is about a father's concern for his daughter's interest in the new social scene, especially the coffee houses. In this 2021 interpretation of the mini comic opera, it is "espresso martinis" that are the father's concern. The translators add another nice little satirical 'twist' by matchmaking the daughter and the bartender, thus allaying the father's anxiety!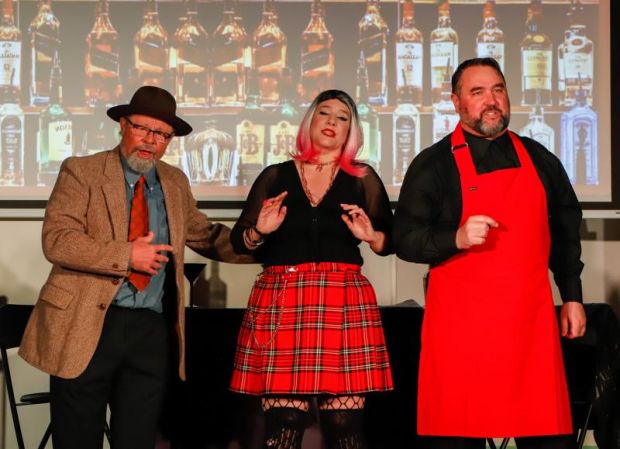 The Barnet Long Room at Customs House and cabaret style seating provided just the right ambience for a production such as this – intimate, good acoustics, warm and friendly. Designer Sandy Gray used minimal props and colourful overhead projections to create her sets, including a 'Freudian' couch for Bastien and Bastienna and a bar complete with a TV tuned to a sport channel for Coffee Cantata! The carefully chosen costumes added colour and verisimilitude to each setting, especially the steam punk outfit designed by Miriam Lohmann for Lisa, the daughter, in Coffee Cantata.
But what of the performers! Apart from Karen Lambert, who graces the stage very seductively at the beginning of Bastien and Bastienna as Bastien's temptress, the three characters in each piece are performed by Lesley Braithwaite, Damien Hall and Ed Shuttle. They are accompanied by Stevie Walter (keyboard), Rebecca Irwin and Jennifer Taylor (violins), Greg Ford (viola), Pierre Emery (cello) and Isabeau Hanson (flute) conducted by musical director Peter Alexander.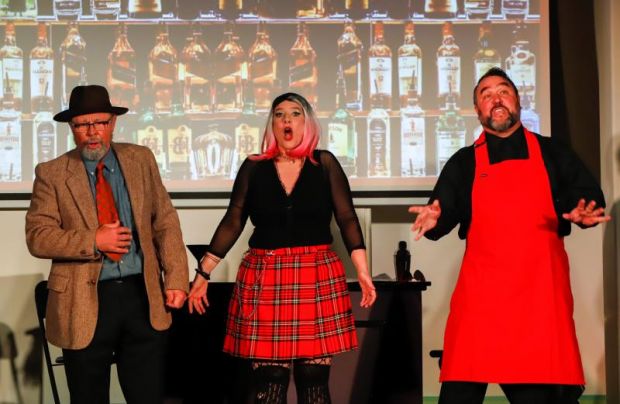 Braithwaite, Hall and Shuttle bring a wealth of experience to their performances. In pieces such as these, the ability to act as well as sing is essential – as is being able to inject comedy in just the right way at just the right moment. It requires dedicated rehearsal based on insightful direction – and Christine Logan's direction is deft and wise. She allows her cast to inject melodramatic comedy – a fluttering eyelash, a suggestive wink, raised eyebrows, a little celebratory dance move – as well as ensuring they sustain the depth and variety of the music and the veracity of the characters. It's a lot to put together and Logan and her cast have done so very effectively.
There are some very funny moments – Shuttle's nonchalant depiction of Colas, Braithwaite and Hall's little 'jive' at the end Bastien and Bastienna; Shuttle's studying of the Form Guide as Lisa has yet another cocktail; Braithwaite showing the 'tiddly' effect of those cocktails as she takes a selfie; Hall shaking cocktails in time to the music. And it will be hard to forget Braithwaite relishing her delivery of a very contemporary teenage "whatever" in response to her father's threats.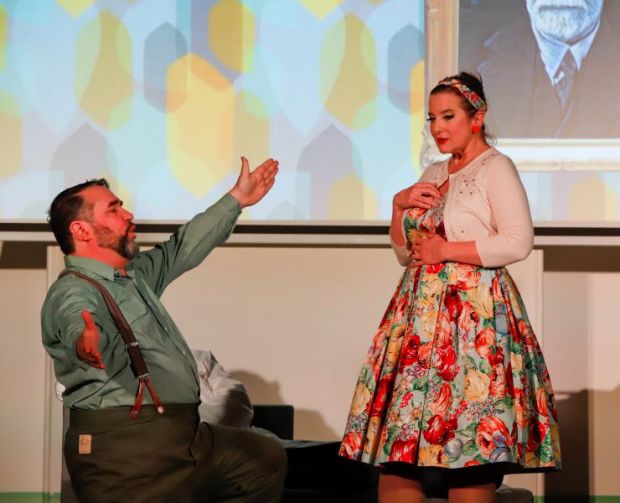 The small orchestra had some lovely moments as well. Mozart's little overture to Bastien and Bastienna introduced the production beautifully, and the piano, cello and flute had special moments in Coffee Cantata.
Endangered Productions aims to give "professionals, enthusiastic amateurs and keen community members" opportunities to keep being involved in the "inclusive, creative world of theatre" and to use the skills of those with long experience to mentor and educate others. The integrity, attention to detail and enthusiasm which they have approached in this production certainly suggests they can achieve that goal.
Carol Wimmer
Photographer: Marion Wheeler