Dr. Felicity Rickshaw's Celebrity Sex Party
By Tyler Jacob Jones and Robert Woods. Directed by Tyler Jacob Jones. Fringe World. The Engine Room, The Flaming Locomotive, State Theatre Centre of WA, Northbridge WA. Jan 20 – Feb 1, 2017
Multi award winning Dr. Felicity Rickshaw's Celebrity Sex Party returns for a second season at FringeWorld 2017. This bizarre but loveable musical about a lonely and awkward office worker who harbours a secret life as a celebrated writer of erotic, celebrity fan-fiction, is attracting sell-out crowds and is once again a hot-ticket production.
Tyler Jacob Jones and Robert Woods write excellent musicals, and this one, while, as you may guess from the premise, will not be to everyone's taste, is one of their best shows. For the most part, it is funny rather than offensive, and while some parts are designed to shock, the intention is always to get a laugh.
Amy Russotti is fabulous as the gorgeously awkward Amy and her pseudo-super cool alter ego Dr. Felicity. Lots of depth for a romp of a show, she is a delight to watch.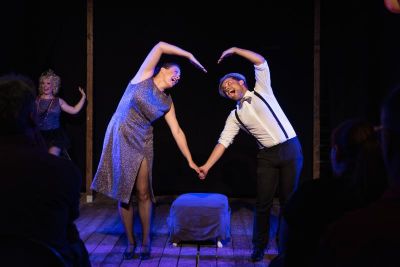 A singing/dancing 'Sex Thesaurus', glamorously played by Erin Hutchinson, Claire Taylor and Tyler Jones, supports Amy throughout the show. These very clever performers double in some wonderful support roles, most of which are best left a surprise. Repeat audiences will notice some updated material – including what may be the biggest laugh line of the show.
Dr. Felicity Rickshaw's Celebrity Sex Partycontains both the most awkward seduction scene and the 'best' sex scene you are likely to see on stage.
Smoothly accompanied by purple-bearded Russian pianist Viktor (a sage Robert Woods) – the show's songs are strong as well as witty.
Holland St productions sell out quickly. If you can source a ticket and are over 18, I highly recommend joining this party.
Kimberley Shaw