Dr Zhivago
Music: Lucy Simon. Lyrics: Michael Korie & Amy Powers. Book: Michael Weller based on the novel by Boris Pasternak. Producers: Anita Waxman, Tom Dockton, Chun-Soo Shin, Latitude Link, Corcoran Prods, Power Arts, Pelican Group, John Frost. Director: Des McAnuff. Musical Director: Kellie Dickerson. Choreographer: Kelly Devine. Lyric Theatre, QPAC, 7 July 2011.
Adapting an epic novel into a successful musical is a daunting task. Not impossible as Les Miserables and Man of La Mancha have proved, but getting all of the elements right is not easy. This production of Boris Pasternak's 1958 sprawling novel set at the time of the Russian Revolution, and about the love affair between the doctor/poet Zhivago and the feisty Lara, has many good things going for it. Firstly the outstanding design by Michael Scott-Mitchell, which captures the sweep and breadth of those turbulent times in simple, clear lines.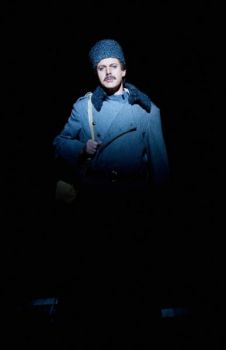 Moving from the aristocracy of the first act to war-torn landscapes in the second, the stage pictures created are never less than perfect. Damien Cooper's lighting design compliments them in every way. Michael Weller has done a more than workmanlike adaptation of the book, which director Des McAnuff (Jersey Boys) has realized in broad-brushstrokes with a strong and compelling cast.
Anthony Warlow singing better than ever, towers above everybody else on stage. You couldn't ask for a better performer to play Yuri Zhivago. Almost matching him in the vocal stakes is Martin Crewes as Pasha Antipov, the idealistic student who morphs into the evil Strelnikov, one of the best and most interesting characters in the show. Lucy Maunder as Lara captures the essence of the role, but vocally is a bit lightweight, likewise Taneel Van Zyl as Zhivago's long-suffering wife Tonia. Batholomew John registers strongly as the bourgeois and sleazy Komarovsky, with Peter Carroll making the most of Alexander, Tonia's father, particularly in the second act.
The chorus work cannot be faulted.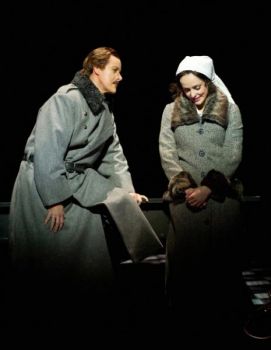 Lucy Simon's (The Secret Garden) score is well constructed, with some pretty tunes, but no matter how well or loud it's sung, it lacks emotion. There's nothing in it that brings a tingle to the spine or a tear to the eye. Simon, not an A-list Broadway composer by any means, fails to give these characters the passion they need. The emotional stakes are high but time after time Simon fails to realize them. Producer John Frost, when interviewed, has said he would like to take the show to London or Broadway, but unless it finds some heart it hasn't got a hope in hell of surviving.
Peter Pinne
Images - top - The cast of Dr Zhivago. Middle: Anthony Warlow. Lower/ Anthony Warlow and Lucy Maunder.
Photographer: Kurt Sneddon
To keep up with the latest news and reviews, visit Stage Whispers on Facebook and click like, or follow us on Twitter.
Earlier coverage.
Frank Hatherley's interview with Anthony Warlow - Click here.
Anthony Warlow's Amateur Days - Click Here
Sydney Premiere Review - Click here.