Dragon Ladies Don't Weep
Chamber Made and Culture Link Singapore. Asia TOPA. Arts Centre Melbourne. February 28, 2020
International Avant-garde musician Margaret Leng Tan is playfully dubbed 'Queen of the toy piano'. Her new show Dragon Ladies Don't Weep, co-produced by Chamber Made and Culture Link Singapore, is a masterful experimental collage of music, spoken word, performance and visuals for the triennial Asia TOPA at the Arts Centre.
In a work featuring twelve short musical scores by Erik Griswold, director Tamara Saulwick and Tan have collaborated to devise a uniquely structured, visually stunning choreographic, sound-based performance.
Numeracy and counting are central to Tan's life; she bursts on to the stage in a sprightly self-absorbed manner and announces her age of '74 years old'. At six years old, she tells us her parents managed her obsessive compulsive counting with piano lessons. For her it was 'delightful' to count the beats in a piece of music while embracing its rhythmic tones.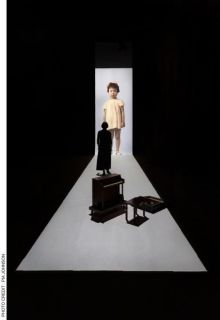 Her performance revolves around the Steinway and her toy piano, as she flutters across the stage like a butterfly virtuoso.
Childhood memories in Singapore, youthful years at the Juilliard School of Music in New York, then meeting and later working with pioneering composer and theorist John Cage as part of his "Winter Music" ensemble, are intrinsically interwoven in this cross-cultural exploration of music and aesthetics.
It is truly sensational to watch a septuagenarian rotate her Steinway 74 times, between bouts at her toy piano, playing her cherished Cantonese nursery rhyme "The Moon is Bright".
There is rear projection, with a neon lit rectangle beaming across the floor. Visuals are creatively constructed to reflect on Tan's narrative and coincide with Griswold's sound composition. Images of her father, her mother and her six-year-old self with a bow in her hair; video footage of her at home feeding her dogs; John Cage and Tan working together - are all images that reflect on Tan's experiential musical autobiographical performance.
Flora Georgiou
Photographer: Pia Johnson