Drake The Amazing + La Dispute
A double bill of two one act plays by Andy Hyman. Darlinghurst Theatre (NSW). July 20 – August 14, 2011.
First up Drake The Amazing - it's a take on the old world of Vaudeville and a behind the scenes look at those who inhabited it when a lifestyle like this was thought of to be more than unconventional. Who were these people? What were their hopes and dreams? Drake The Amazing attempts to expose this in a funny, light hearted romantic way using that typical American Danny Kaye style of performance. It is a challenge and the actors generally hit the mark particularly with the accents and Andrew Johnston as Astor holds this show together. He truly is fabulous to watch. On the surface the show is light, bright, quick and entertaining. But the script itself lacks the depth needed to really make the audience share what it is that the characters themselves are feeling and this at times is frustrating.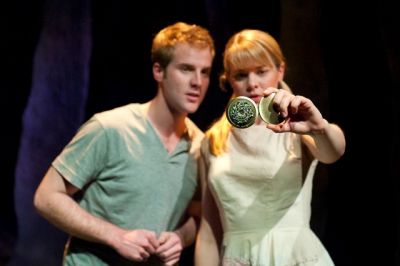 The second offering, La Dispute, is almost ethereal in tone. It's a fractured fairytale look at the innocence of true love and human nature. Are we as humans meant to be monogamous or do we inherently stray? This is a big concept and being squeezed into the structure of a one-act play doesn't work. The actors try their level best at communicating to the audience what their purpose is and what is happening. But because there is no time for any depth, what we are left with is a slap dash stab at what has the potential of being quite an interesting production. The end is so sudden that it just feels kind of wrong, like a fire alarm has gone off and everyone has to leave the building. La Dispute really should be re-worked and re-written into a standard length play.
The direction, lighting, sets and supporting technical aspects of each play are very well executed and support each show. But for all the effort, energy and commitment that this double bill of one act plays has, as a viewer you want them to succeed but they fall short and that is largely due to the scripts - nothing else.
Whitney Fitzsimmons
Photographer: Patrick Boland
To keep up with the latest news and reviews, visit Stage Whispers on Facebook and click like, or follow us on Twitter.