DRILL
By Ahilan Ratnamohan. Riverside, Parramatta Oct 14 – 17, 2015
DRILL mixes the grit, flexibility, pace and precision of sport training with the ... well ... grit, flexibility, pace and precision of dance training! Fast and precise, physically demanding and exacting, it takes a series of training exercises and choreographs them into a performance that encapsulates the punishing rigour of training and the challenges of the sporting arena as well as the camaraderie – and competitiveness – that is at the heart of every sport.
The performers work to a formidable routine, timed precisely, it seems, by carefully paced breathing, the only accompaniment the percussion of their fast moving feet. It is impossible to explain the series of movements, the number of reps (sorry, repetitions) or the multiple variations that form part of this carefully choreographed performance.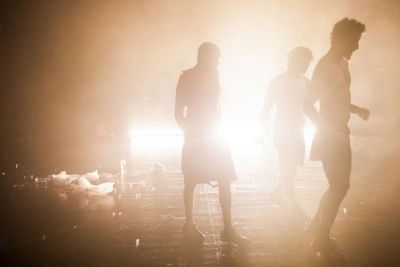 Choreographer and performer Ahilan Ratnamohan says: "Unfortunately I can't dance ... but what I can do with some finesse is play football and navigate a series of bodies and obstacles in a tight space, twisting, bounding, hopping and feinting ". And that is just what he and his co-performers, Arno Wauters and Imanuel Dado do. There are no better words to describe the regimen and manoeuvres Ratnamohan has created for his very athletic'team'.
They work flawlessly together, pushing their energy levels in a torrid pace that is only relieved by carefully timed pauses – and some humorous breaks involving ice packs, water bottles, massage and a bit of tomfoolery! This is a totally physical performance that is a tribute to the passion and zealous commitment that is expected of contemporary performers in any arena.
Carol Wimmer
Photographer: Philippe Smet