The Drowsy Chaperone
Book by Bob Martin and Don McKellar, music and lyrics by Lisa Lambert and Greg Morrison. Company Clegg, Civic Playhouse, Newcastle. December 20 to 23, 2012
THIS delightful musical was a fitting finale for the graduating acting students at Hunter TAFE's Regional Institute of Performing Arts, with their skills giving vivid life to a demanding work.
The Drowsy Chaperone is subtitled A Musical Within a Comedy, and it shows an elderly man talking about his love for musicals and especially that of the fictional 1928 title work as he listens to an old vinyl recording of its songs.
The show and its characters come alive as he shares his memories, treating the audience to a recreation of 1920s musicals that is both affectionate and tongue-in-cheek.
The musical's plot centres on the coming marriage of a female Broadway star to the son of a millionaire and the desperate attempts of her producer to prevent the marriage after he is threatened by gangsters working for the main investor in his shows. The investor fears he'll lose his money if the star goes through with her intention to quit show business when she weds.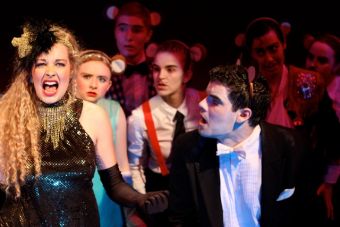 The writing team has cleverly put musical theatre cliché after cliché into the work, including mistaken identities, dream sequences, an unflappable English butler, comic gangsters and a ditzy chorine, and made it great fun – fun that director David Brown, the 16 actors and the production team brought out.
Kane Gavin was an engaging host as the musical lover, with his comments gradually revealing why the show meant so much to him.
Georgina Hardy, as bride-to-be Janet, had a lively scene which began with her telling reporters why she's giving up show business and developed into a big production number that raised questions about whether she'll be able to keep to her intent.
She subsequently had a warmly amusing duet, Accident Waiting to Happen, with Matt Graham's blindfolded and roller-skate-wearing elegant groom, Robert, in which she pretended to be a French woman, Mimi, to test his fidelity.
Ken Longworth