Dry River Run
Opera by Paul Dean. Director/Librettist: Rodney Hall. Queensland Conservatorium. Conductor/Chorus Master: Associate Professor Nicholas Cleobury. Assistant Director/Choreographer: Delia Silvan. Conservatorium Theatre, Southbank, Qld.1 Sep 2018
Paul Dean's new Australian opera Dry River Run is a powerful and epic piece of theatre. Commissioned by the Queensland Conservatorium, the original work has a libretto by Rodney Hall and is a period folktale based around the outback milieu created by Henry Lawson's poetry and Barbara Baynton's short-stories. Set at the time of Federation, the tragic story revolves around the wife (Gladys) and daughter (Veronica) of a recently deceased popular pastoralist, his land-holdings Dry River Run, and his brother, the Reverend Callaway. The Reverend sweeps into town, assumes the head of family role, and wants to foreclose on the unproductive land holdings of which he owns half. With the help of two love-struck jackeroos (Henry and Joseph) he nefariously plots an assignation with his niece in a bush hut and whilst they're out droving he rapes her. Later when he's accused he hides behind the cloth, is never punished for his crime, and walks away to stand for the new federal parliament.
They say power corrupts, but it is also frequently rewarded as any trawl though our history will reveal. Reverend Callaway is a marvellous character, perhaps a second-cousin to Sweeney Todd's Judge Turpin, but a man who bloviates with pomposity, manipulates with evil intent, and a self-righteous prig. He can grandly take his place alongside the genre's heavies.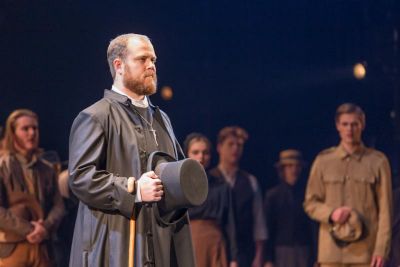 Although it's set in Colonial times, there's nothing Colonial about Paul Dean's music which is atonal, atmospheric, and lyrical. Scored for a full orchestra, his opening with its buzz of flies and butcher bird cries is brilliantly evocative of the outback, whilst his full orchestral bombast to describe the anguish and turmoil the Reverend suffers before the rape is brutally horrific, likewise Veronica's emotional state post-rape which is realised in adagio balletic form by a group of young women dancers.
Rockhampton born 25-year-old baritone Oliver Boyd, a recent winner of the Royal Melbourne Philharmonic Aria Competition, was perfect as the Reverend. It's a big role and one which finds him onstage for almost the entire duration, but he proved more than up to the task, finding energy, emotion and passion.
Xenia Puskarz Thomas was also exceptional as the mother Gladys. Her beautiful mezzo soprano hauntingly etched the emotional turmoil of the outback woman, as did Sheridan Hughes as the daughter Veronica, who brought pathos and youth to a soprano role.
Rounding out the principals was tenor Philip Costovski as a young jackaroo nursing an unrequited love for Veronica, and bass Henry Pinder, whose feelings mirrored those of his colleague. A large chorus of the Conservatorium students played at various times, townspeople, churchgoers, drovers and drinkers, whilst adding to the colour of the work with their choral singing, particularly impressive in the opening funeral sequence with the hymn "O God, our help in ages past".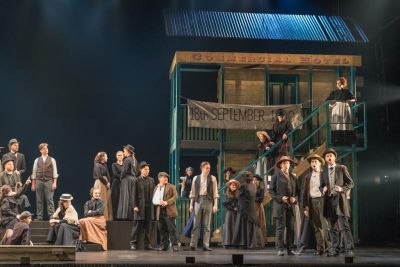 Praise should also go to Delia Silvan and her stylised choreographic movements for the ensemble as a block. At one time with its standing, crouching, standing movement it added physical invention.
Gayle MacGregor's costume realisation captured the period look with great style, helped by Nigel Levings' lighting, whilst Peter Mumford's design, where the roofs swooped down from the flies and hovered above the sets, was ingenious, and brought a high level of artistic integrity to the production.
Lastly, and the key element for the success of the performance was Nicholas Cleobury and his conducting of the Conservatorium Orchestra, with enormous understanding of the entire creative vision of the project.
Dry River Run is a masterful addition to the burgeoning canon of new Australian operas. It deserves a long life.
Peter Pinne
Photographer: Patrick Adams