Duets For Lovers and Dreamers.
Written by Sandra Fiona Long. Directed by Naomi Steinborner. fortyfivedownstairs, 45 Flinders Lane, Melbourne. 19 November to 5 December, 2010.
In lesser hands, a series of duets would be all dialogue.
Sandra Fiona Long shows that so much more can be done. The first scene "Nana in a Knapsack" teaches the audience to expect the unexpected. Both characters are present, but not in a way they can interact.
The next scene shakes the sombre mood of the first. "The Storm" sees Phillip McInnes narrate while jock-twink Matt Cornell illustrates the words with his shirtless dancing —that in itself is always unexpected, but always apt.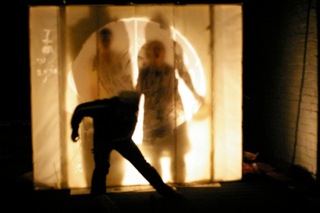 In my last example of how the idea of duets is given a fresh angle, let's look at the last scene. "Girl up a tree with clouds" has Katherine Tonkin play one part, while the other half of the duet is the three other performers, as a collective in a spoken-word choir.
Award-winning actor Helen Morse brings appropriate gravitas to her characters. In a light and shade contrast, Tonkin delivers the more playful parts.
You'll leave the theatre with a fresh sense of what's possible. It's unexpectedly innovative but satisfying.
Daniel G Taylor (@danielgtaylor)