Dust
By Suzie Miller. Directed by Emily McLean. Heath Ledger Theatre, State Theatre Centre of Western Australia, Perth. June 28 – July 13, 2014
Dust, a new play by Suzie Miller, is a fascinating patchwork of stories set as a huge dust storm hits Perth.
We meet a hospital patient with a need to leave the hospital, a family in turmoil, an overwrought Bridezilla, an anxious taxi passenger and her exasperated driver, people biding time in the Qantas lounge and a couple in what may be a new relationship. All are linked and all are greatly impacted by the cloud of dust that has descended on the city.
Fiona Bruce's design is amazing. Opening with a lowered lighting rig, the semi-industrial, draped set rises to create a strong feeling of dust hanging over multiple locales in Perth. Innovative use of hazers and excellent use of projections that merge seamlessly with the live action, add greatly to the mood. Trent Suidgeest's stunning lighting adds to the impression of the oppressive but beautiful red cloud over the city.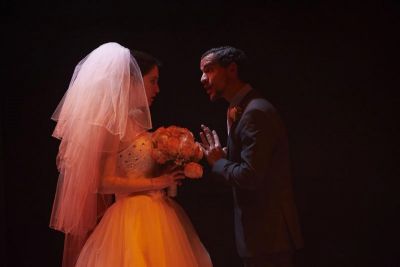 Top-notch performances abound. All of the cast play multiple roles and the speedy transitions between characters are impressive. Benj D'Addario shines as vastly different Ian and David, a precise wedding planner and stressed FIFO worker. Charlotte Devenport is convincing as both panicking bride and depressed teenager. Caroline McKenzie delights the audience as nosy neighbour Lorraine and is also an elegant mother-of-the-bride. Ben Mortley is lovely as young man on a date, Alistair and charms in his brief appearance as a homeless man. Kelton Pell shows great depth as family man Eddie and is markedly different as jealous boyfriend Tony.
Alison Van Reeken gives wonderful portrayals of artist Alice and her almost polar opposite Elektra. Gemma Willing is intriguing as Lara and has an ethereal air as 'the woman'.
I really enjoyed the performance of Nicholas Starte making his Black Swan debut (and possibly professional stage debut) in the roles of Egyptian taxi driver Masoud and bridegroom Matthew. He is a very strong actor, whom I hope to see again.
While its present incarnation is quintessentially west Australian and the stories have ring-of-truth local detail that brings them close to home, this is a story of humanity that would translate well to any city.
Dust is a wonderful new production, brought beautifully to life by Black Swan.
Kimberley Shaw
Images: Nicholas Starte & Alison van Reeken and Charlotte Devenport & Nicholas Starte. Gary Marsh Photography.