Edward II
By Christopher Marlowe. Sport for Jove. Seymour Centre. October 1 – 17, 2015
Christopher Marlowe's account of Edward II of England condenses the twenty turbulent years of his reign into an exposé of love and lust, politics and power.
Fie on love that,
Hatchet death and hate.'Kent: Scene Act V, Sc iv
Director Terry Karabelas: "Marlowe explores how excess and passion always lead to catastrophe and destruction. (It is) an historical tragedy…that transcends time and speaks to our contemporary world where the personal is political and the political is always driven by the personal".
The play opens as Edward is crowned – and immediately arranges to have his exiled lover, Piers Gaveston, return to England, thus enraging the barons, the church and his queen, Isabella. Edward warns them against opposing him in Act I, Sc i:
I will have Gaveston and you shall know
What danger is to stand against the king.
Thus follows a torrid, bloody struggle that decimates the court and finally leaves a young Edward III to rule a country beleaguered by tragedy and civil unrest.
Sport for Jove'sproduction leaves no doubt about that tragedy, or the passion that spawned it. Karabelas pulls no punches about the intimacy of Edward's relationship with Gaveston – nor the ambition of the barons, Mortimer, Lancaster and Warwick. Nor does he allow anything to impair the pace with which Marlowe recreated history.
His production is fast, hard-hitting, gut-wrenching, his actors pushed to find the intensity of every passionate moment, every bitter exchange, every horrific execution.
Julian Garner musters all of these in his powerful portrayal of Edward. He is fierce in his love, fiery in his defence of his love, ruthless in his determination to have both Gaveston and his kingdom … and eventually embittered as he languishes in Berkley Castle awaiting assassination. Garner calls upon the obvious strength of his physical and emotional reserves to make this Edward convincingly impassioned, disturbed, and ultimately destroyed by the havoc that he has wreaked.
Garner is supported by an equally outstanding cast.
As the spurned Isabella, Georgia Adams convincingly sustains the gamut of 'roles' Isabella must take on to retain her place in the court: scorned wife, plotting consort, jubilant victor, protective mother, defeated queen. James Lugton is impervious as her consort and lover, Mortimer. There is arrogance and sneering determination in every aspect of his physical bearing and clear articulation of his defiant lines.
His allies, Lancaster, Warwick and the hapless Bishop of Canterbury are played, with similar strength by Richard Hilliar, Belinda Hoare and Barry French respectively. In defeat and death, they are as defiantly believable as they are in defence of the country they believe Edward to be destroying.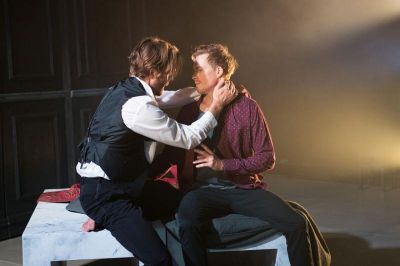 Angela Bauer plays Edward's sister, the Princess of Kent. Tall and elegant, she is in every sense the loyal Royal, torn between love and respect for her brother and her duty to the realm. Her anguished soliloquy shows the command this performer has over the both the vocal and physical demands of a role.
Edward's lover, Gaveston is played with insolent intensity by Michael Whalley, who sustains a pent up energy that galvanizes this character through a range of volatile emotions: fervent lust, bold impudence, brazen defiance, his once powerful position as Edward's favourite declining to powerless resistance as the barons and Isabella take their revenge.
Loyal supporters to both Edward and Gaveston are Hugh Spencer (Ed Lembke-Hogan) and Baldock (Simon London). Both actors undertake the physicality and emotions these roles demand with apparent ease – as does Gabriel Farncourt in his depiction of the young Prince Edward, torn between father and mother, loyalty and duty – and the burden of having to wear the heavy crown of his father deposition.
Set designer Alicia Clements has transformed the stage of the Reginald theatre to a dark, haunting space, with two marbled benches surrounded by black walls picked out in gold. Melanie Liertz' costumes continue the dark mood suggested by the set. It is only a red cloth and Isabella's red dress and shoes that break the shadowy tones and bleak atmosphere that is lit with ingenious subtlety by Ross Graham.
Once again, Sport for Jove has excelled in staging a production that thrills, and, in this case, shocks, horrifies … and resonates profoundly.
Carol Wimmer
Photographer: Marnya Rothe.