The Elephant Man
By Bernard Pomerance. WAAPA Third Year Acting Students. Directed by Andrew Lewis. Roundhouse Theatre, WAAPA, Edith Cowan University, WA. Oct 12-15, 2020
The Elephant Man is a beautifully presented production acted by WAAPA's Third Year Acting Students and featuring the creative talents of Production and Design Students. Not open to the public, The Elephant Man played to fellow students and selected audience members for a short season of matinee performances.
While there are a handful of standout performances, one of the strengths of this production is the fabulous and emotive movement sequences as directed by Movement (and Intimacy) Director Sam Chester. These sections, deliberately theatrical, help establish the era, but more importantly highlight the emotions of the piece, and are expertly designed and executed.
Connor Merrigan-Turner delivers a bravura performance in the title role, playing John Merrick with depth and great conviction. Merrigan-Turner does not use makeup for the role, and we watch as this good-looking young actor, standing in front of a poster of the real Merrick, contorts his body and face into a representation of this greatly afflicted man.
Jay Peardon is also very impressive, bringing layers to the role of Merrick's doctor Frederick Treves. Another hugely challenging character, this flawed hero is given great life in a mature and nuanced performance.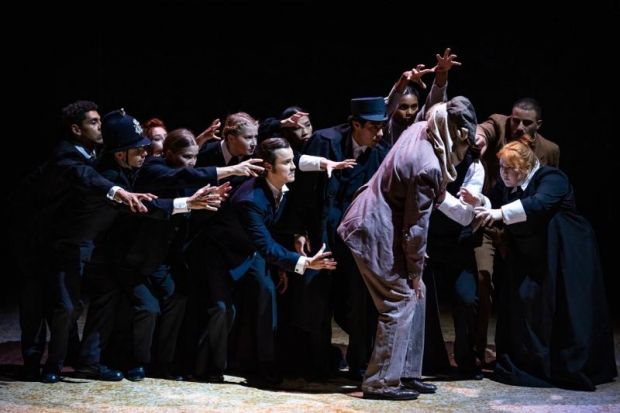 Mrs Kendal is a wonderful character and extremely likeable as played by Molly Grigg. Well written and expertly portrayed, a lovely portrait of an independent woman. Mrs Kendal is also perhaps the most beautifully clothed by Costume Designer Paris Fitzpatrick, whose gorgeous Victorian costumes, including great corsetry, add so much to the story. Paris Fitzpatrick also designed the simple, elegant set.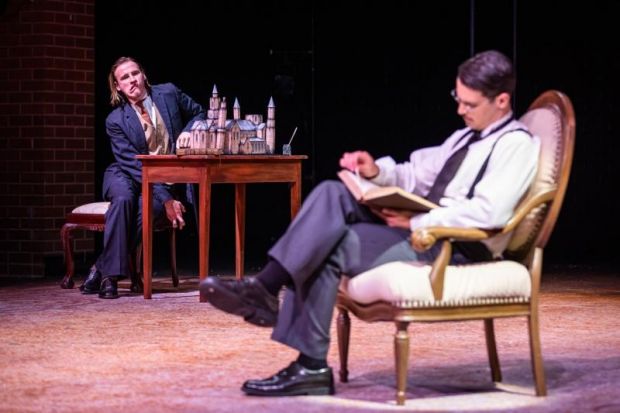 In smaller but key roles, Lucy Lock is excellent, gender flipping with authority as hospital chairman Francis Carr Gomm; Nicholas Perry brings some interesting light touches to the villainous role of Merrick's exploitive and thieving manager; Darius Williams brings a thoughtfulness to spiritual advisor Bishop How; and India Goodhand nicely creates two very different roles as nurse Miss Sandwich and Princess Alexandra. The ensemble, playing numerous small roles, is strong throughout, with lovely impact from Domino McCathrion, Joshua Virgona, Joanna Tu, Morgan Dukes, Joseph Tanti, Allegra Monk, Lockie Ranson and Jackson Rutherford.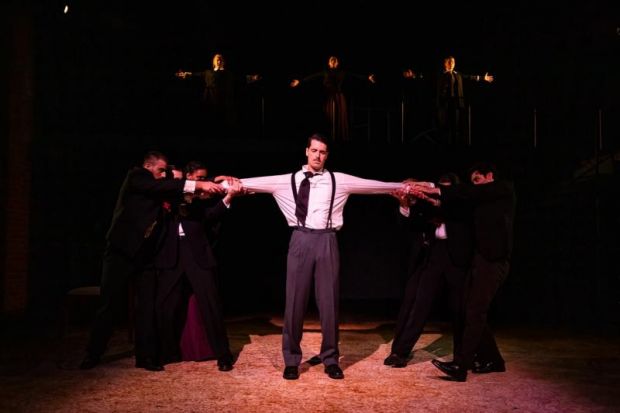 A significant proportion of the small audience could be heard suppressing sobs, not only due to the performances, but thanks to emotive work from lighting designer Claire Lansom, Composer Arran O'Mara and sound designer Georgia Nicholls, whose care helped harness the emotion of this highly moving play.
Played without an interval, this well-paced, smooth production feels much shorter than its running time. a gift to its small audience and a privilege to see.
Kimberley Shaw
Photographer: Stephen Heath