Emerald City
By David Williamson. Queensland Theatre. Director: Sam Strong. Playhouse, QPAC. 8-29 February 2020
Queensland Theatre's first production for 2020 celebrates 50 years of seasons for the company, and also 50 years of plays by Australia's greatest living playwright David Williamson.
Emerald City is one of Williamson's most successful plays. Premiering in 1987, it was a rip-roaring satire on the Melbourne and Sydney arts rivalry and the film and television industries.
Sam Strong's revival is classy and deftly lifts the material. On a stunning Dale Ferguson set, with a background of glitter curtains which would do justice to any Las Vegas strip show, a revolve which houses a glass box playing area, a soundtrack of INXS and other eighties hits, and some sharp performances, the play frequently sparkles.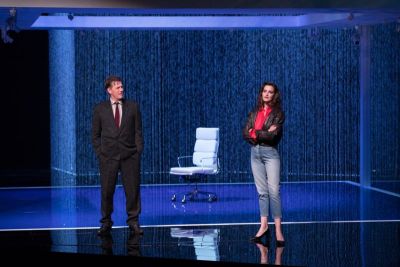 Colin (Jason Klarwein) a successful, but currently artistically stalled, screenwriter has moved from Melbourne to Sydney in the hope he may get his career back on track. His wife, Kate (Nadine Garner) is fiercely Melbournian, a book editor, and only holds disdain for the harbor city. When Colin is seduced by the thought of riches to be made in TV mini-series and the U.S. market and his agent Elaine (Marg Downey) doesn't like his pitch for a series called Coastwatchers, he joins forces with a skirt-chasing shyster and soapie writer Mike (Rhys Muldoon). Kate believes he's sold out and lost his artistic integrity.
It's a scenario of art-house versus commercialism that doesn't have a lot of heat in it for the general audience, but Williamson peppers the script with enough one-liners to satisfy. Kate also has her own drama when an Aboriginal book she is touting called Black Rage is denied publication but through Mike's intervention gets published and goes on to be short-listed for the Booker Prize. She goes to London for the ceremony and cheats on Colin with her publisher Ian. This indiscretion is thrown away in a few lines. Pity.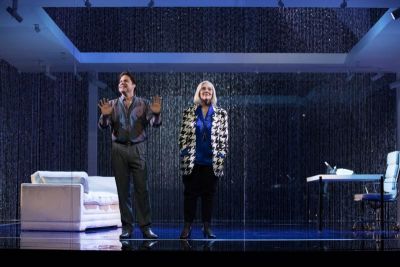 Klarwein's performance as Colin brings out the frustrations and disillusionment of a writer who's trying to recapture a winning streak, but it's Muldoon who shines as the sleaze-bag Mike. When his girlfriend Helen (Megan Hind) arrives, his immediate request for two coffees is a not-too-subtle comment on the position of women in the pre #MeToo era. Garner, whose career encompassed teenage roles in movies of the 80s, brings all her experience to bear in a performance that is energetic and gutsy. Downey was an acerbic and martini-dry hustler who knew how to work the cocktail parties. Despite getting little stage time, Hind bubbles and captivates, whilst Ray Chong Nee's Malcolm is a no nonsense and brutal money-man.
It may not be Williamson's best play, and it does hammer home its points at times, but it's entertaining and surprisingly still relevant. Williamson was in the audience for the revival and came up on stage at the finale, where the audience gave him a fitting and well-deserved standing ovation. Fifty years of successful plays is a magnificent achievement.
Peter Pinne
Photographer: David Kelly