Emerald City
By David Williamson. Directed by Sam Strong. MTC Southbank Theatre, The Sumner, 140 Southbank Blvd, Southbank. 6 March – 18 April, 2020.
David Williamson's plays often provide a microscopic view of some of the more staunch Anglo-Celtic aspects of Australian culture. The incisive manner in which he dissects some of the questionable aspects of stereotypical Australian characteristics shows a discomfort with the way they expose parochial attitudes and behaviours. Emerald City examines the film and publishing industries but echo many of Williamson's own personal experiences of being a writer who is caught up in the cultural rivalry between Sydney and Melbourne.
The play has been revived to celebrate Williamson's 50th anniversary as a playwright. The staging of this production employs an exquisite and simple set design and subtly conjures up the glamour and glitz of Sydney where all the action takes place. The clean crisp lines, minimalist set and the expanse of space is combined with a clever use of large windows, which often act as a vast mirror, and all this perfectly captures the opulence of Sydney society. The reflections of the characters and the audience onto the panes of glass create a wonderful disorienting and mesmerising effect echoing the abundant charm Sydney has to offer. While shortcomings of both cities are frequently at the centre of the dialogue, Sydney is represented as the more desirable and iconic Australian location. It is hard to imagine much of the wheeling and dealing that Williamson so accurately portrays occurring in a less glitzy Melbourne.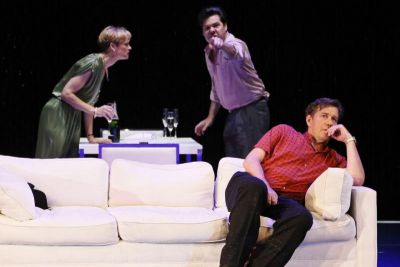 The star studded cast delivers some strong individual performances and the sardonic humour is especially evident in the protagonists. Colin (Jason Karwein) is made endearing with a somewhat naïve quality that somehow excuses some of his more ill-considered choices. Kate (Nadine Garner) is portrayed as a typical professional working mother whose success is always at odds with that of her husband, eliciting some very sensitive issues related to gender imbalances. Mike (Rhys Muldoon) is made especially despicable by accentuating his blatant chauvinism and ruthless ambition. His version of Australian bravado and larrikin antics evokes a rather repulsive persona. These characterisations are well envisaged and the performances are finely tuned.
Yet this production lacks real impetus and the rhythm of the show seems quite static. The characters never seem to be building up to a climax which renders the end of the play as somewhat inconsequential. The revival of this play requires more urgency in its revisiting of this particular historical moment and the state of the two industries and cities at the centre of the story. Many of Williamson's criticisms still ring very true but this production may need to consider how to make this more relevant to a contemporary audience.
Patricia Di Risio
Jeff Busby