End of the Rainbow
Play by Peter Quilter. QTC & QPAC Production. Director: David Bell. Musical Director: Andrew McNaughton. Playhouse, QPAC, Brisbane. 2-24 March 2013
When Christen O'Leary belted out "The Trolley Song" towards the end of the first act, the stage lit up, the excitement built and the atmosphere was electric. In that one moment O'Leary captured the performing essence of show-business icon Judy Garland, the subject of British playwright Peter Quliter's End of the Rainbow. The play set in London in 1968, dealt with the final weeks in the star's life as she attempted to fulfil an engagement at London's Talk of the Town struggling with alcohol and pill addiction.
The action oscillated between Garland's suite at the Ritz Hotel and the nightclub stage, giving O'Leary the chance to sing some classic Garland songs. In these musical sequences the show soared with the highlights being a manic delivery of "Come Rain or Come Shine" (where Garland was hyped up on Ritalin), and lovely introspective versions of "The Man That Got Away" and "Over the Rainbow".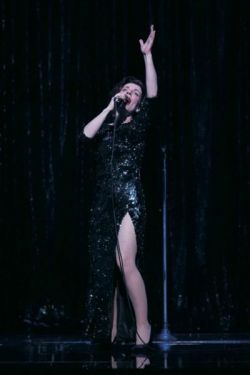 It's what came in between that was the problem. Quilter's play focused on two men in Garland's life, her latest toy-boy and much younger husband-to-be, Mickey Deans, and her accompanist, Anthony, an older gay man who's been around the Garland block many times. Anthony Standish as Mickey was effective playing an ambitious young man completely out of his depth, while Hayden Spencer found great tenderness as Anthony.
O'Leary's Garland was not helped by the script which had far too many platitudes of the "I gave them everything, there's nothing left" variety. That she managed to achieve believability was testament to her acting ability more than anything else, but then this was a tabloid-sensational look at Garland and left no room for pathos. What little emotion there was came at play's end when Anthony asked Garland to ditch Mickey and go and live with him quietly in Brighton. It was a moment beautifully captured by Spencer and O'Leary.
Bill Haycock's living room design with its floor to ceiling mirrors was gaudy but opulent, while David Walters lighting established the 'on stage' sequences with appropriate glitz. Andrew McNaughton's musical arrangements, based on the Garland originals, managed to make the six-piece combo sound much bigger, particularly with McNaughton's terrific solo trumpet work.
End of the Rainbow had its world premiere at the Sydney Opera House in 2005, and has since played successful seasons in London (2011), done a UK tour, and played Broadway (2012). Now it's Brisbane's turn to finally re-live the Garland legend in this excellent production by QTC and QPAC.
Peter Pinne