Enigma – A Musical Tour De Force
J.S. Bach: Prelude and Fugue in C Minor, BWV546/Poulenc: Concerto in G minor for Organ, Timpani and Strings/Elgar: Enigma Variations. Queensland Symphony Orchestra. Conductor: Johannes Fritzsch. Soloist: Joseph Nolan, Organ. Concert Hall, QPAC. 9-10 April 2021
Enigma – a musical tour de force was an outstanding concert by the Queensland Symphony Orchestra, led by Johannes Fritzsch, which showcased the talent of acclaimed organ soloist Joseph Nolan. Playing the magnificent Klais Grand Organ, the brilliant Nolan participated in all three pieces on offer but it was his work in Poulenc's Concerto in G minor for Organ, Timpani and Strings that dazzled.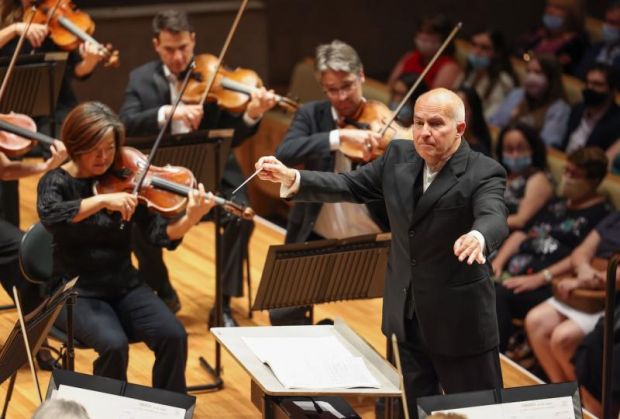 Originally commissioned by Princess Edmond de Polignac, and written between 1934 and 1938, the work has become one of the most performed Concertos not written in the Baroque period. With echoes of Bach and Stravinsky, the music is playful and amusing yet deeply religious in feeling. From the G minor chord opening to the exquisite near finale viola solo, this was a vibrant, violent and beautiful reading of Poulenc's Neo-Gothic masterpiece. Nolan's registers and voicing were varied and colorful, delivering cohesion and brilliance on the superb Klais organ. His immaculate solo command of the instrument was simply thrilling.
The tour-de-force continued with Elgar's popular Enigma Variations, one of the wonders of English classical music. Fritsch put the orchestra through its paces, with the oboe trills of Isabel Fritton floating to the vaulted ceiling, Dr. G.R. Sinclair and his bulldog Dan with their jaunty river escapade lovingly captured by skittering bassoons, and the cello section excelling in Basil G. Nevison. One was carried away with the dramatic beauty of Nimrod, one of the most moving melodies ever written, and the most well-known and popular of the Variations. The strings simply shimmered with radiance.
The concert opened with a specially written brass and organ version of Bach's Prelude in C Minor. Arranged by conducted Fritzsch when he was head of the Tasmanian Symphony Orchestra, it gave the brass ensemble (trumpets, trombones, tuba) the chance to have their centre-stage moment which they performed with a virtuoso brilliance, followed by Nolan again in an exacting fugue for organ which enveloped the Concert Hall with glorious Cathedral-like tones.
Peter Pinne
ABC Classic will repeat the concert, 9 May 2021 at 1PM (AEDT)