ENRON
By Lucy Prebble. New Theatre (Newtoown, NSW). June 4 – 29, 2013.
It could be said that this is an ambitious production: a weighty and complicated topic; more than fifty roles; in a fairly long and complex play. Yet from the start it is obvious that director Louise Fischer knew just what was needed for this play by the much-lauded British playwright, Lucy Prebble.
Prebble is not just an intelligent playwright. She does her homework conscientiously, understands what she is writing about and is able to format it into a piece of theatre that is blisteringly satirical. She pulls no punches as she presents the bitter truth behind the ENRON fraud. All the greed, arrogance, deceit and double-dealing are laid bare – but at no time does she allow facts and figures to overpower the theatricality of her writing. She writes fast, exposes quickly and tempers her scenes with movement, humour and biting satire. Her characters are devious and cunning, egotistic and ambitious – and very real.
Louise Fischer's very talented and energetic cast matches the speed and detail of Prebble's writing. They work as a remarkable ensemble, changing characters constantly and yet never allowing the audience to become confused or disinterested. Fast, carefully choreographed scene changes add to the cut and thrust of the dialogue, creating the pace of the stock market, the rush of the city.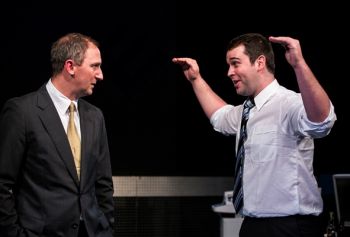 Vocal work is also remarkable. Accents are mostly strong and voices very clear – important in a play where so much is said and so much implied in so many different scenes and so many settings. Fischer uses the varied levels of the set to establish and differentiate scenes, and this works very effectively, though in a few key scenes some actors seem to be slightly out of light.
Carrying the story are four main characters, the movers and shakers at the helm of ENRON. Matt Young plays Jeffery Skilling, CEO, an ideas man on the make, a little charismatic but selfishly ruthless. It's a big role and one that could be emotionally exhausting – but Young seems undaunted by the energy and range required of him in such a pivotal part. His Skilling is strong, scheming, cruel, crafty – and totally believable.
Peter Flett plays company director Kenneth Lay, who is the complete antithesis to Skilling. Warm, generous, a family man who has the ear of politicians, Lay is, however, vulnerable, and allows himself to be caught up in the whirlwind of Skilling's ideas. Flett establishes his character clearly and balances Skilling's push and pace with quiet enthusiasm and rationality.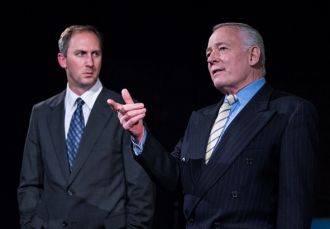 Cassandra-Lee Heschl plays Claudia Roe, Skilling's business rival. A strong, ambitious woman, she is, nevertheless, more pragmatic, more reasonable – and therefore loses out to Skilling's ruthlessness. Heschl has a strong stage presence and she uses it well in this role. She is sexy when she needs to be, yet always defiantly assertive.
The character of Andy Fastow is played very beguilingly by Nick Curnow. Fastow idolizes Skilling and Skilling uses him abominably – until he realises his value – as it is Fastow who conceives and initiates the fraud that will become the ruination of ENRON and trigger the GFC. Nick Curnow finds all the intricacies and emotional levels that Prebbles has written into this character. He is embarrassing in his original naivety and his hero worship of Skilling, enthusiastically erudite as he explains the how the fraudulent companies will work, then more and more bemused as he realises the problems he has created.
Under the very skillful direction of Louise Fischer, these four actors head an energetic and talented cast in Lucy Prebble's very realistic recreation of the cold-blooded corporate failure that affected the world economy so tragically at the end of the 20th century.
Carol Wimmer
Photographer: Bob Seary