Erotic Intelligence for Dummies
Written and performed by Helen Cassidy. Pretend Productions and Wilde Applause. Melbourne Fringe Festival. Fringe Hub: Arts House – Underground, North Melbourne. 15-22 September 2017
A polished, funny show about sex. But wittily risqué rather than 'shocking' – naughty but nice, surprising and funny all the way through. Helen Cassidy comes on as the cliché librarian with the glasses and the under-control hair –except that the hair is red, the heels are a little too high and the skirt is a little too tight and too short. Within minutes she's perched on a mound of soft toys, reading us a story from a nice, illustrated picture book about her first sexual experiences with a fluffy koala… who then gets to tell his side of the story. It's that kind of show. By the end, after the snake, the frigate bird and another bear, you may never look at soft toys in quite the same way again.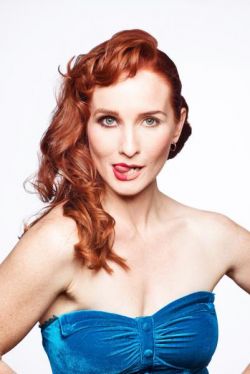 Ms Cassidy is a classically trained actress who's been to clown school; she's done cabaret all over; she sings (torch songs with her own lyrics), she moves with practiced, sexy ease among the audience, inviting them to touch her; there are costume changes – from 'librarian' to jungle explorer (all those jungle animals are doing it!), to showgirl… And throughout, she involves the audience and makes them complicit – more than they expected or thought they wanted.
I had a feeling this might be an audience participation show, so was careful not to sit in the front row. This won't save you. Three 'contestants' are selected from the audience – and only one from the front row – for a sort of reality TV show, 'Are You My One and Only?" I suspect years of experience allows Ms Cassidy to pick her victims for their potential because the three we saw were the most cooperative and entertaining three picked from the audience I've ever seen.
The point of all this is to encourage her audience to contemplate all varieties of sexual experience, whether you're bi, gay, trans, straight, into S&M, a polyamorous unicorn (single who dates couples with no interest in relationships, so called because no one has ever seen one), or just… married. Ms Cassidy pulls us all in. When she sings 'It Had to Be You' (with her own adjusted lyrics again), the very concept of (just) 'You' is questioned, but with a smile - and we leave smiling.
Michael Brindley