Escher's Hands
By Dawson Nichols. Galleon Theatre Group, Domain Theatre, Oaklands Park. April 29 – May 8, 2021
M.C. Escher, the Dutch artist who explored concepts of alternate realities, impossible objects and infinity in his works, provided the inspiration for Dawson Nichols' Escher's Hands. Named for Escher's well-known artwork 'Drawing Hands', which depicts two hands drawing each other, Escher's Hands explores ideas of control, of cause and effect and of freewill.
Gary, by day a technical writer (played by the ever-delightful Andrew Clark) and Sandy, a copy writer (Brittany Daw), are both involved in a Writer's Workshop where they have been tasked with writing a collaborative piece. They quickly agree on a piece about a prostitute and a pimp, with a love twist. That is where any agreement seemingly ends. Gary takes a stereotypically masculine approach in his keenness to explore the rawness, passion and violent tension between the characters. Sandy, on the other hand, is keen on a more sensitive and romantic, almost Pretty Woman, approach to the storyline.
Tensions between Gary and Sandy ebb and flow as they bring the characters of Gab (Rose Harvey) and Steve (Thomas Filsell) quite literally to life. Clark and Daw bring a wonderful rapport to Gary and Sandy, offsetting moments of high tension with touches of heartfelt camaraderie.
Gary and Sandy bear witness to the fictional world they are creating, shaping and leading it like brushstrokes on a canvas. Then towards the end of the first act the audience begins to glimpse moments of disdain between Gabriella (Rose Harvey) and the writers that have brought her and 'inexperienced' pimp Steve (Thomas Filsell) to life.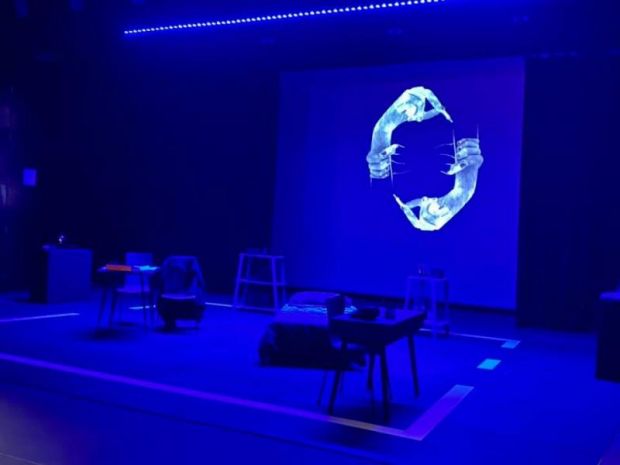 The characters of Gabriella and Steve are far less believable than those of Gary and Sandy. This is through no fault of Harvey and Filsell, who do a great job, but rather as a result of the characters being tossed from pillar to post by the machinations of their divided writers.
In the second act, which does drag a bit, the interaction between fiction and reality quickly becomes further blurred causing us to question who is indeed in control of the situation. Who came first? The character, or the writer? Are the writers the puppeteers that they believe themselves to be or merely the puppets to the characters they have created?
Director Kym Clayton has drawn together this piece ably, supported by a clever set design (also by Brittany Daw) and a beautiful and nuanced lighting design (designer not credited but operated by James Allenby). The sound design (Warren McKenzie) supports the action and serves to draw the audience further into the suspense and action. The use of the rear screen mostly works well, but a poorly thought through gun firing substitution unfortunately reduces tension by giving the game away at other moments.
The costumes are contemporary and fit for purpose but not inspired. As an obvious example, Gabriella may have been more believable in the clothes that she herself states that she would not miss, 'the snap-crotch teddies, high heels and vinyl' rather than the jeans and ballet flats.
Clayton and the Galleon team once again give the audience an entertaining night out with Escher's Hands. It's a thought-provoking piece, and a challenging one for the actors but ably pulled off by all.
Jenny Fewster