Essgee's Pirates of Penzance
Music: Arthur Sullivan. Libretto: W.S. Gilbert. Additional Lyrics: Melvyn Morrow. Empire Theatre Production. Director: Terence O'Connell. Musical Director: Craig Renshaw. Choreography: George Canham/Alison Vallette. Empire Theatre Toowoomba. 14-17 Mar 2018
The Pirates of Penzance has been entertaining Australian audiences for nearly one hundred and forty years ever since J.C. Williamson mounted the first production of the comic-opera in Australia in 1881, a year after its first London production. In fact it became one of the main money-streams that consolidated Williamson's theatrical empire. The new 'modern' version, that put a rock beat to the score, has done the same thing for Simon Gallaher's Essgee Productions who has kept it afloat ever since he starred in the first production of the new version which opened QPAC in 1985. It's got everything you could ask for in a musical, a slew of well-known songs, colourful characters, and a fanciful and funny plot.
Director Terence O'Connell did an amazing job of this pro-am production, which had the cast delivering every laugh with slapstick and OTT performances that were tightly controlled. Top marks to choreographers George Canham and Alison Vallette who had the chorus drilled to within an inch of perfection. Whether they were pirates, maidens or policemen, their routines were executed with polish.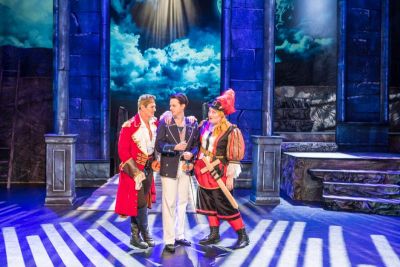 West End star Michael Cormick was a robust, swashbuckling, Pirate King letting his glorious voice rip through "I am a Pirate King" and leading the company in the delicious high-kick romp of "With cat-like tread". Recent Griffith Musical Theatre graduate Alex Woodward was a handsome hero and handled the top tenor notes with ease along the way milking every laugh especially with the redoubtable Ruth (Angela Ponting) as his co-conspirator. The trio "Paradox" was a delight in the hands of Cormick, Woodward and Ponting.
But it was Sophie Salvesami's effortless soprano trills in "Poor wandering one" as Mabel that brought thunderous audience applause, as did Mathew Collins as the Modern Major General, with the score's incomparable patter number.
The costumes (by Debra Nairn) were a treat right down to the glittering slippers on the Fabulous Singlettes. Josh McIntosh's set design was a bit traditional with its first-act lumpy cloth-covered stones but the second-act's Gothic arches added style, whilst conductor Craig Renshaw, who parried with the cast when they broke the fourth wall time and time again, had a jolly old time with a 16-piece orchestra. It was a fun night!
Peter Pinne