Eureka Day
By Jonathon Spector. State Theatre Company South Australia. Dunstan Playhouse. 12th-27th November 2021
No matter what side of the fence you sit on, there is no denying that California based playwright Jonathon Spector's satirical comedy packs an emotional punch. In an age of opinion, and many platforms on which to voice such opinions, he manages to capture the importance of inclusivity.
Set in a private school classroom in Berkely California, the joyful set designed by Meg Wilson captures an innocence - a time when we could believe everything we read and personal opinions were carried closer to the chest, to avoid friction or unrest. Spector writes of a more complicated time; modern times, where conspiracy theories, misinformation, corporate agendas, and scientific facts are all questioned.
Although Spector wrote this play in a pre-COVID world, one could be forgiven for thinking it was penned in more recent times. As we grapple with a global pandemic, the issues being discussed are of a personal nature.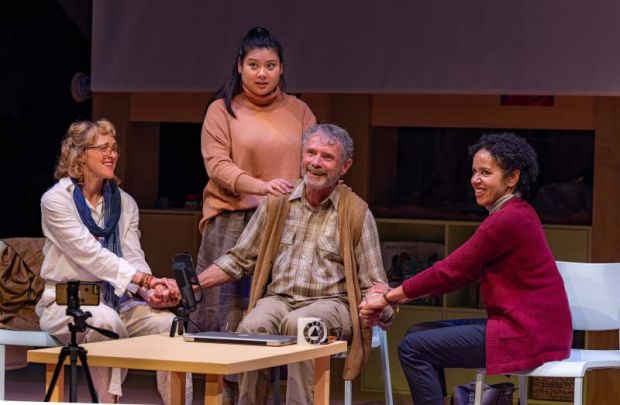 A 'progressive' executive committee, made up of five parents, is called together when an outbreak of mumps threatens the community school. Poetry-loving hippie Don (Glynn Nicholas) is a leader of sorts, a parent who has taken on the role of mediator and does so with hilarious results. Suzanne (Caroline Craig) hits the stage talking and barely comes up for air. Her manic delivery is both infuriating and side-splitting - her layered performance carries with it personal tragedy. Eli (Matt Hyde) is a millionaire stay-at-home Dad whose views on monogamy are left of centre. Meiko (Juanita Navas-Nguyen) is a quietly spoken single-mum who gradually finds her voice. Rounding out the cast is Carina (Sara Zwangobani). Her stoic delivery and common sense are a highlight. This talented cast have an undeniable chemistry, which is needed for such a wordy play.
Although Spector's script carries with it weighty issues, he is clever to highlight the absurdity amongst the rhetoric. This produces one of the funniest Facebook livestreams at the end of act one.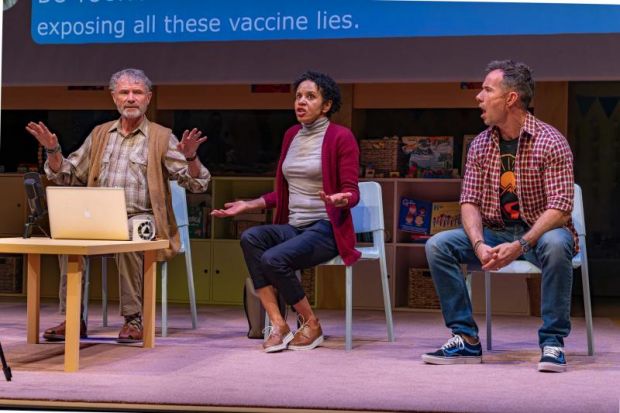 Director Rosalba Clemente has produced a tight-knit ensemble piece that lets the audience experience a multitude of emotions. Allowing her cast to highlight their natural talents only adds to the amusement.
The highest of production values captured my attention.
This is an important piece of theatre, perhaps more relevant today than when first penned. It is a production that will have you thinking long after the curtain goes down. The way I see it is, if you make one more important choice in 2021, then buy a ticket to this fabulous production.
Kerry Cooper
Photographer: Chris Herzfeld