The Events
By David Greig. Adelaide Festival of Arts. State Theatre Company of South Australia, Belvoir and Malthouse Theatre. Her Majesty's Theatre. February 25 – March 2, 2016
The human brain continually seeks to rationalise life events, good and bad, but how does one fathom the unfathomable? Is it possible for victims of violent atrocity to ever come to terms with what has happened and why?
Written by Scottish playwright David Greig following the horrific 2011 mass slayings in Norway, The Events is co-produced at the Adelaide Festival by the State Theatre Company of South Australia, together with Belvoir and Malthouse Theatre.
Despite its origins, this play is not about the Norwegian murders. Set in a small town that could be anywhere, The Events is a uniquely different, profoundly affecting and sometimes funny play that allows the audience to experience the obsessive search for personal peace experienced by one victim of random mass violence.
As Anglican priest and shooting victim Claire tries to make some sense of the events that have left her a struggling survivor and others in her town dead, she travels a road that takes her to the edge of reason, sanity, faith and perhaps forgiveness; and she takes her community and even the young male perpetrator with her.
Directed by Clare Watson, the Australian Premiere of The Events is simply yet emotively staged. It's as if we are observing a town's bare soul. Setting of the events is a local town hall, where a choir is to rehearse on raised wooden platforms. There is a piano, stacked chairs and a table containing an urn and tea-making paraphenalia. Before long, choir members and a pianist file in and gather in groups, chatting quietly as the audience continues to arrive.
What happens once the lights go down occurs not necessarily in the here and now, but in recollection of events…or does it? The theatrical experience to come is at once abstract, spontaneous, intriguing and immersive.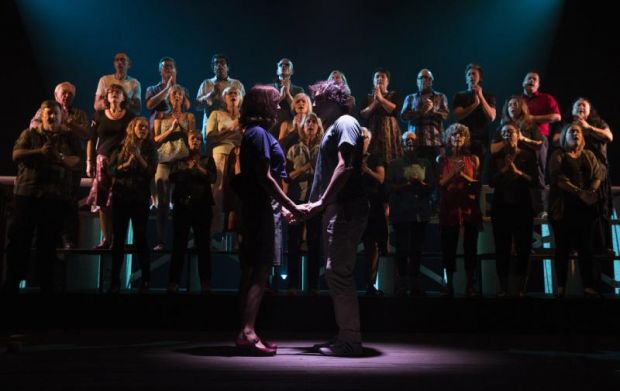 There are many people on stage, yet only two actors. For each night of the production a different real-life local community choir is integrated into the action. They become something akin to a Greek Chorus and, while they've rehearsed their songs, they see the script only moments before going on stage. This ensures their reactions to the events that unfold are completely natural. They are onlookers, like those of us in the audience, but they have a connection to the events too; the victims in this story were at choir practice when the perpetrator arrived.
Catherine McClements is superb as Claire, embodying the conflicted character as she grapples with finding at least some resolution to her anguished quest for an end to her torment. This is a brilliantly understated performance, one that makes the depiction of Claire's original terror and even a later suicidal moment even more impactful and jarring when they occur.
Johnny Carr portrays all other characters very well, including those townspeople who try to help Claire, such as her friend and a psychiatrist. It is difficult at times to keep up with the characterisations, as they change and even revert back suddenly and often, sometimes differing in only subtle ways physically and in voice. However, Carr's prime role is as the antagonist, The Boy, who is the perpetrator. We are never in doubt when he is present.
Through the character of The Boy the play brilliantly examines the motives of someone we all know well through the media; the troubled young man with a gun. It delves deeper too, examining events in life that can change or socially influence future directions in life, including for a boy or even a country.
Lighting and sound design are excellent.
The Events is a superb and unique examination of one victim's self-destructive desire to understand the essence of violence. It's perhaps an impossible quest; a puzzle, with some of the pieces missing, especially the one that contains the answer to WHY.
Lesley Reed
Photographer: Shane Reid