Everything's Coming Up Sondheim
Music & Lyrics: Stephen Sondheim. Spears Entertainment. Director: Tyran Parke. Producer: Caitlin Spears. Musical Director: Stephen Gray. Choreographer: Jess D'Souza. The Loft, Chapel off Chapel, Prahran. 2-4 August, 2019
Director Tyran Parke (fresh from directing Barnum – The Circus Musical) is a huge devotee of the work of Stephen Sondheim and has both performed in and directed many concerts and musicals featuring the king of Broadway's music and lyrics.
The vision for this intimate showcase was to help the audience see how our own humanity prevents us from achieving connection. This vision was achieved with great success by Mr Parke, Producer Caitlin Spears and Musical Director Stephen Gray as part of the newly formed Spears Entertainment production company.
The showcase featured thirty songs from well-known scores including Sunday In The Park With George, Company, Follies, Into The Woods and A Little Night Music, as well as lesser known hidden gems.
The company of eight singers made up of established and emerging Australian artists, who were as diverse as the musical numbers being presented.
Embla Bishop, Sally Bourne, Alex Gibson-Giorgio, Kerrie Anne Greenland, Genevieve Kingsford, Phillip Lowe, Caitlin Spears and Cameron Taylor had no trouble transitioning seamlessly between ensemble and solo numbers in this world premiere song-cycle.
Cameron Taylor's experience as a physical actor turned "Buddy's Blues" (Follies) into a side (by side) splitting performance. Other voices suited more tender moments, such as Alex Gibson-Giorgio's delicate rendition of "If You Can Find Me, I'm Here" (Evening Primrose). "Children and Art" (Sunday In The Park With George) sung by Genevieve Kingsford (pictured, top)was, for me, probably the stand out performance of the show. I didn't want it to end.
Kerrie Anne Greenland and Phillip Lowe's on stage domestic singing "Country House" (Follies) had me hanging off every word. Sondheim lyrics never cease to amaze! Caitlin Spears singing the opening strains of "Getting Married Today" (Company) in her beautiful soprano register sent shivers down my spine. Alex and Cameron's very sensitive rendition of "No More" (Into The Woods) had me in tears.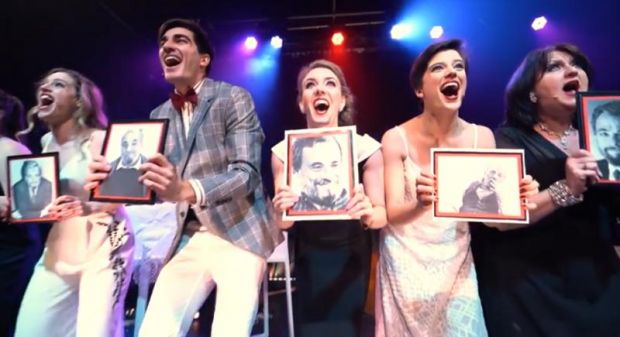 Crowd favourites proved to be Phillip – "Finishing The Hat" (Sunday In The Park With George), Sally – "Send In The Clowns" (A Little Night Music), Embla – "Not A Day Goes By" (Merrily We Roll Along) and Kerrie Anne singing "There Won't Be Trumpets" (Anyone Can Whistle). You could hear a pin drop as these singers held the audience in the palm of their hand, each receiving rapturous praise.
While each performer held their own in the spotlight, the strength of the show was the collaboration or 'connection' between the players. This was particularly noted in "Children Will Listen" (Into The Woods), "Side by Side" (Company) and a relatively unknown piece to me called "Goodbye for Now" (Reds) that finished off the show. This was a very touching finale to a 90 minute roller coaster ride of emotions.
Kudos to the three piece band. Musical Director Stephen Gray on piano, John Clark on percussion and Ian Wilmot on Bass didn't miss a beat. As a pianist myself I know how difficult it is to play Sondheim. Hats off to these three incredible musicians.
A Little 'Saturday' Night Music has broadened my knowledge of master Sondheim and introduced me to eight wonderful stars of Australian theatre. Well done to Spears Entertainment and all involved for 'Putting It Together'. This concert reminded me of the joy of 'Being Alive!' Thank you Mr Sondheim.
Jonathan Cox
Photographer: James Terry