Evita
Lyrics by Tim Rice. Music by Andrew Lloyd Webber. Miranda Musical Society. Sutherland Entertainment Centre. September 9 – 13, 2015.
Musically Evita is about as hard as it gets for a chorus. In the first act a fruity mixture of clashing chords, notes that needed to be plucked from no-where and a mixtures of styles make it hard to perform and difficult for the audience digest. All this is swished together with regular refrains of the musical theme Don't Cry for me Argentina and (in this production ) a coffin swinging around the stage with a plastic doll inside.
Evita was seen as refreshing when it burst onto the scene in the late 1970's and picked up the Tony Award in 1980. Does it still gel today?
The audience at the Sutherland Entertainment Centre was a little subdued at interval.
The Miranda Musical Society was up the challenge, and excited the audience more in the second act as the production reaches the glamorous era of 'Evita' as the first lady.
Tim Rice and Andrew Lloyd Webber give a realistic portrayal of her rags to riches elevation, but gloss over some of the more sordid aspects of her husband's administration such as providing refuge for Nazis.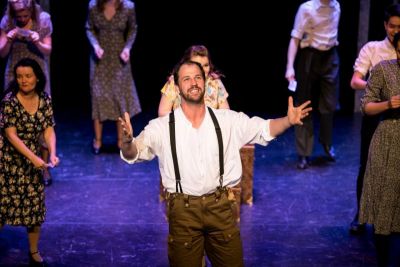 Was this one of the reasons for King George VI declining to meet Evita in Buckingham Palace on her tour of Europe in 1947? Or did she remind the royal family too much of Mrs Wallace Simpson – an upstart who slept her way to the top?
There were many fine performances in this production, Adam Scicluna was charismatic and convincing as Juan Peron, local favourite Gavin Leahy held the production together with style as the narrator Che, and Lauren Butler hit the mark when she needed to as Eva.
The costumes were glamorous, the chorus well drilled and the orchestra in fine form.
The amateur rights have not been available for well over a decade and the director Bob Peet relished being able to bring back the production, which he staged many years ago in Wollongong.
His passion for the work was evident.
However Evita should only be staged by community theatre companies with very sophisticated music skills such as Miranda.
David Spicer