Evita
Music by Andrew Lloyd-Webber. Lyrics by Tim Rice. The Gilbert & Sullivan Soc. of SA Inc. Arts Theatre, Adelaide. Sept 23 – Oct 2, 2021
The Gilbert & Sullivan Society of SA Inc are presenting one production in 2021 and what a production it is! The iconic musical Evita by Andrew Lloyd Webber and Tim Rice centres on the life of Argentine political leader and second wife of Argentine President Juan Peron and her rise from impoverished beginnings to become Argentina's answer to Princess Diana.
It may be sixty-nine years since Evita's death, but the musical's themes of duality, politics and female empowerment still resonate.
Evita tells the story of Eva Duarte Peron, who rises from poverty to become an Argentinian actress and the wife of powerful President Juan Peron. Through a series of flashbacks, Eva transforms from a poor teenager into a woman of influence and power. After the death of her father, Eva travels to Buenos Aires and begins a string of relationships with powerful men before meeting Juan. Eva's ultimate power and influence earn her both admiration and hatred.
Director and set designer Gordon Combes' production of Evita is slick, polished and full of drama and passion. His set design - based on the metal decorated gates of the Casa da Rosa - is striking in its simplicity, featuring cleverly designed back projections to highlight the action and a balcony to focus the audience's attention.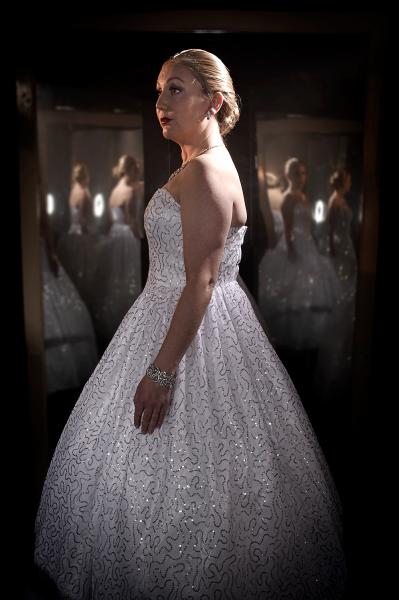 His direction is tight, focussing on the relationships between the characters and is aided by Tim Bates' moody lighting, which uses the side gate set pieces as a blank canvas to change the colour palette for each scene. The direction and lighting are beautifully paired.
Jillian Gulliver's eighteen-piece orchestra, cleverly located behind a scrim at the back of the set, provides the 'backbone' of the musical. It skilfully navigates the wide range of musical genres in the score without obscuring the voices. Gulliver's cast handle the complexity of the vocal score with ease, particularly the chorus sections which are at times, challenging.
Sarah Williams' choreography is innovative and well drilled. Too often in this musical the chorus are static - not so in thus production. The choreography is elegant, humorous, quirky and always geared to the ability of the cast.
There can be no Evita without an actor who is a triple threat (singer, actor & dancer). Tegan Gully-Crispe fits the bill admirably. She leads us on a journey from a naïve peasant to a woman whose political power was known throughout the world. She gives us a nuanced performance full of complexity and intensity. The audience wait for the famous 'Don't Cry For Me, Argentina' and we are not disappointed when it arrives, complete with a silver glittering frock and the archetypal hand gestures.
Jared Frost's Che, the musical's narrator and host, gives us the people's view of Evita and her handling of her people. His brooding eyes and powerful tenor voice, including an amazing belt, engage from start to finish. His 'High Flying Adored' (with Evita) is a highlight.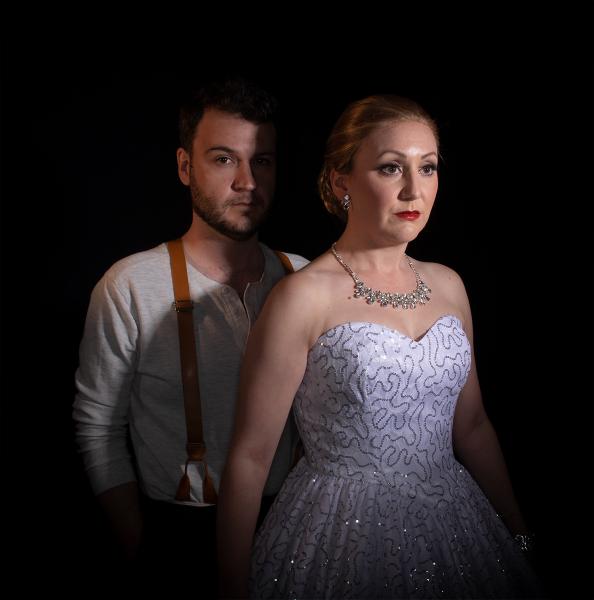 James McCluskey-Garcia's Juan Peron provides a solid counterpoint to Evita. Right from 'The Art of the Possible' he embodies dignity, charm, cunning, and authority. His 'She is a Diamond' from Act Two is a highlight.
James Nicholson's Magaldi, the pompous tango singer with whom Eva has her first love affair, is a charming loser who never quite rises to stardom, but pretends he has. Nicholson plays him as a tongue-in-cheek sleaze and it works. He has a crystal-clear tenor voice and quickly endears himself to the audience with his 'On This Night of a Thousand Stars'.
Grace Carter's Mistress is fragile, vulnerable and innocent. Her only number 'Another Suitcase in Another Hall' is an audience pleaser.
Evita has a large amount of chorus work for a musical and the G&S chorus do not disappoint. They easily slip in and out of characters (and costume), singing and dancing up a storm, particularly in the moving 'Santa Evita' and the stirring 'A New Argentina'.
The Gilbert & Sullivan Soc. of SA's production of Evita is emotion-charged, powerful and a fascinating glimpse into the personal life of Argentina's most influential woman!
Barry Hill
Images (from top): James McCluskey-Garcia (Juan Perón) & Tegan Gully-Crispe ('Evita' Perón), Tegan Gully-Crispe and Jared Frost (Che) & Tegan Gully-Crispe. Photographer: Tim Bates