That Eye, The Sky
Adapted by Richard Roxburgh and Justin Monjo from the novel by Tim Winton. New Theatre (NSW). Mar 15 – Apr 16, 2016
This is an ambitious play for any company to undertake but director David Burrowes and his creative team have honoured both the mood of Tim Winton's original story and a script that is almost filmic in its complexity. Tom Bannerman has designed a spare, stark set using almost the full width and most of the depth of the stage, which Benjamin Brockman has highlighted with shadowy, moody lighting. The discordant, sometimes grating, sometimes almost piercing, sound design (Hugo Smart and Dean Barry Revell) underlines changes in time and the tenor of more esoteric moments – many of which centre on a long, rectangular prism of light suspended on a system of pulleys that enables it to change from a visionary cloud to a rowboat to an incline climbed by members of the cast.
Bleakness permeates this play – and this production. The set is a high, wide lattice-like construction stretching across the back of the bare, black stage, its metallic colour emphasising space and starkness and intensifying the hovering significance of the light suspended above it. There is no place to hide on this set – just as there is no way the stricken Flack family is able escape the vicissitudes that life has dealt them.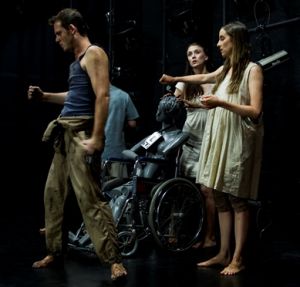 Dark too are the make up (Sarah Canceri), the costumes (Alana Canceri) – and the characters. The only relief from grey and grime are the plumes of a pet rooster, a red tool box, a blue boiler suit and the robes of a priest – and these in brief scenes only.
Burrowes has heightened the filmic quality of the script with carefully controlled movement and blocking. Every gesture and action intensifies the moment, every pause reflects the challenge faced by the character. Timing is essential in direction such as this, and his cast realises every tiny movement and change of pace.
Joel Horwood plays the almost adolescent Ort Flack, finding his uncomplicated simplicity in gentle reactions, quizzical expressions and loose, seemingly unstressed movements that contrast with those of other characters. Ort provides the necessary humour that relieves the tenor of the play and Horwood uses perfect timing and tempo to pinpoint this in his simplistic rationalisation of the twists and turns of fate that have befallen his family. His re-telling of bible stories to his paraplegic father is a very special moment in the production.
Shaun Martindale plays both Sam Flack and Henry Warburton – a double role essential to the play, emphasising as it does the ways the influences of both affect the family. As Sam, Martindale appears only in the first moments of the production, but he establishes strongly his importance to the family and their feeling of dependence on him. As Warburton he is grubbily believable as an itinerant, born-again, self-styled evangelist. He is an imposing presence on the stage, his voice and movement capturing the freakishness of the character, whether cajoling Ort and his mother into baptism or deviously perverting his sister.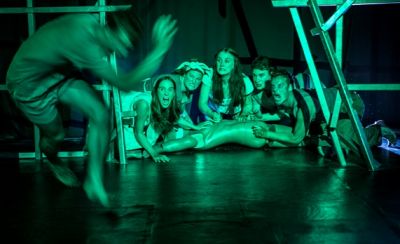 Romney Stanton and Emma Wright are convincing as mother and daughter, Alice and Tegwyn Flack. Their similarity in appearance and build ties them, but is used to accentuate the difference in their personalities. Alice is accepting, reconciled to a life of drudgery and hardship and Stanton finds this in weary gestures that belie her smiles and the brave optimism and love with which she ties desperately to protect her dysfunctional family.
Tegwyn, on the other hand, is rebellious and Wright shows this vocally in her petulant complaints about having to care for her senile, wheelchair bound grandmother (voiced by Alice Livingstone) and empty threats about getting a job. Burrowes has used Wright's physicality to accentuate Tegwyn's wayward restlessness. She climbs nimbly, runs swiftly and darts seductively as she taunts and tempts Warburton. This character symbolises so many of the fears and frailties of youth and Wright depicts them faithfully.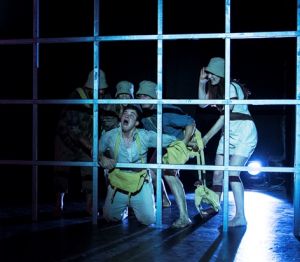 The Cherry family is loud and boisterous compared to the Flack family's passive tolerance. Fat Cherry, played with empathetic little boy acceptance by Simon Thompson, is bullied at home and at school. Alex Bryant-Smith is Mr Cherry, a weak, inveterate gambler constantly abused by his wife, played with plenty of vituperative energy by Jenae O'Connor. These three also pick up a variety of smaller roles that are intrinsic to the veracity of the plot.
Energy and control are all-important in this production, from the moment the audience enters and finds the cast in a sustained freeze, to a carefully timed sequence depicting a traffic accident, to paused movements that prolong a suggestion of introspection, or frozen moments that, like a camera fix the intensity of one scene before moving on.
This is an adaptation that manages to bring all the complexities of Winton's characters and the starkness of their landscape into a definitive, but depressing, theatrical experience. Thankfully this is lifted by clever, perceptive direction that uses some innovative ideas, the skills of a very talented and responsive cast, the imagination of creative designers – and the back up of a strong stage crew.
Carol Wimmer
Photographer: Bob Seary