Falsettos
Music and Lyrics by William Finn and book by Finn and James Lapine. Theatre and Company. Lennox Theatre Parramatta. March 5 – 14, 2020
Falsettos is a fast-paced whirlwind of a musical that takes you on an emotional roller-coaster from start to finish. Boasting a score that includes some crazy and hilarious numbers along with ones that pull at your heart strings, the story takes you on the journey of three dysfunctional couples and one 12 year old, who is also on a journey towards his Bar Mitzvah.
The three couples are Marvin and his boyfriend Whizzer, Marvin's ex wife Trina and her boyfriend/husband Mendel and a Lesbian couple, Charlotte and Cordelia. We get and insight of their lives, spanning a few years, from the highs of new loves and a marriage to a gut wrenching death just before the final curtain.
The romantic dynamics between the characters could make or break this show. Theatre and Company's cast exceed expectations of an amateur show; each couple was so believable that you could forget that you were watching actors.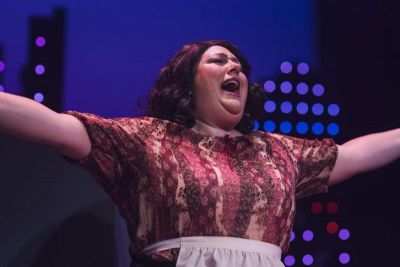 Simon Ward portrayed the lead character of Marvin perfectly, showing the character's struggles of wanting a "Tight-Knit Family", dealing with a young son, his ex-wife dating his Psychiatrist and keeping up with much younger lover. Ward was vocally strong and his final number "What Would I Do?" really pulled at your heart strings.
Aleksander Justin played Whizzer with passion and honesty. The way he tried to grapple with the love of his new older boyfriend was evident in all aspects of his performance.
Linda Hale's maturity as a performer was personified in her portrayal of the wife, Trina. The character was being pulled in three directions by son Jason, the ex-husband and her new lover Mendel. Her breakdown in the number "I'm Breaking Down" was a highlight of the show.
Levi Burrows and Oscar Langmar as Mendel and Jason both had some moving moments and each was very vocally and physically entertaining to watch. Chloe Angel and Ashleigh Campbell added an extra fiery element to the mix in the second act as Charlotte and Cordelia. Both harmonised beautifully with Ward and Justin in the number "Unlikely Lovers".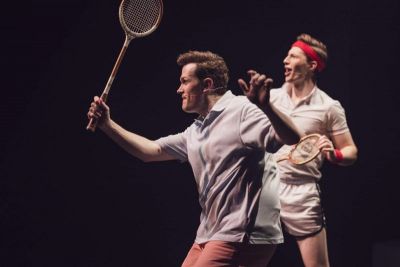 The technical elements added to the thrilling look of the show. The simple set design and its clever use was exciting to see and the lighting enhanced the mood and thoughts of the characters brilliantly. The very small stage band, lead by Alex Ash, played the Finn's Score superbly and sounded amazing. Director and choreographer Adam Haynes and Melissa Ayers have made great use of the Lennox Theatre. The blocking of scenes and the movement of set by cast throughout acting scenes was good idea in this show. The energetic and at times complex choreography was performed confidently and looked fun to be a part of.
Falsettos shows how families, no matter how dysfunctional they may be, can still work.
This show is a must see show by a company that keeps providing exceptionally high standards of theatrical experiences.
James Russell