Falstaff
Music by Giuseppe Verdi. Book and Lyrics by Arrigo Boito. Directed by Simon Phillips. Conducted by Antony Walker. Joan Sutherland Theatre, Sydney Opera House. February 15 – March 16, 2013.
When Giuseppe Verdi commenced work on Falstaff, he asked his collaborator Arrigo Boito to squeeze all the juice from the Shakespearean glass and leave none of the pips in it. After more than century it still tastes freshly squeezed and remains an opera that makes you laugh on a regular basis.
The plot is roughly the same as The Merry Wives of Windsor. The central character Sir John Falstaff tries to seduce married ladies, who in turn trick him for his lechery.
He is large and very unattractive, but very happy in his splotched skin.
FALSTAFF: (looking at his belly and patting it) "This is my kingdom. I must increase it."
Warwick Fyfe stepped into the shoes of Falstaff this time.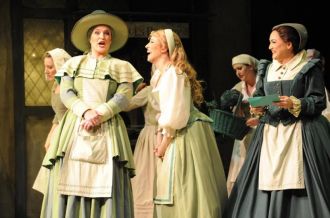 I was terribly spoilt by an Opera Australia performance in this role by Bryn Terfel in 1999, which I still remember vividly. Mr Fyfe was not quite as vulgar as Bryn Terfel, nor did he have quite the barrel of whisky voice but was still a jolly good rogue stuffed into the same bulbous costume.
The set and design have not been updated since then – and with good reason – they work a treat. The first act uses a clever two storey revolve, moving from Falstaff's house to an English pub and square. The second act is gorgeous, blending red and white costumes in a sublime visual treat.
Most impressive in the singing department was John Longmuir as the young lover Fenton. He sang and acted with equal doses of passion and sweetness.
All up a jolly time was had by all.
David Spicer.
Images: Andrew Jones as Ford & Warwick Fyfe as Sir John Falstaff and Dominica Matthews as Mistress Quickly, Lorina Gore as Nannetta & Amelia Farrugia as Alice Ford. Photo by Branco Gaica.