Fangirls
Book, music, and lyrics by Yve Blake. Belvoir. Directed by Paige Rattray. Seymour Centre. 30 January - 20 February, 2021
Teenage girls are so misunderstood. That's the theme of Yve Blake's electrifying musical that became a smash hit at Queensland Theatre and Sydney's Belvoir in 2019. It's back, with a bigger cast and at a bigger venue (at Sydney's Seymour Centre). And while you could laugh at this central idea at first, the show will win you over with its wit and humour.
There's no doubt that Fangirls resonates particularly with young women but its appeal goes beyond that. If you've ever been a teenage girl or indeed a teenager at all, you're likely to enjoy it, thanks to the brilliant writing and smashing performances.
At opening night, there were fangirls of the show itself in the audience. The applause was boisterous, with loud laughter and whoops of joy. Some audience members obviously knew the young cast but it was also clear that, even if they were covered by masks, there were big smiles of joy across the crowd.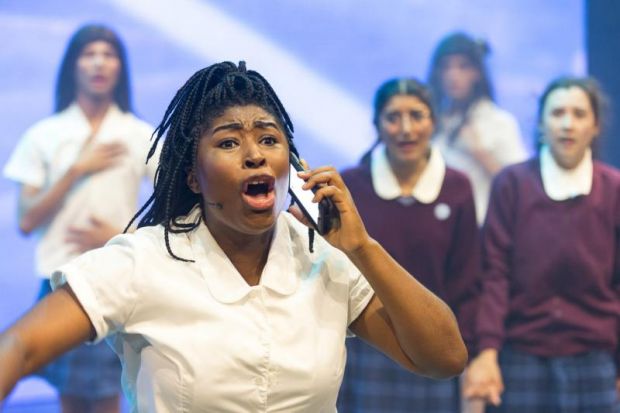 Fangirls feels like a musical for the next generation - probably Gen Z rather than even millennials. The young characters are obsessed with how they - and others - appear but they're also self-deprecating and often make you laugh. At first, the show is just pure joy but it soon reveals it has something to say too.
Karis Oka plays Edna, a 14-year-old girl obsessed with Harry, a member of the world's biggest boy band "True Connection". Oka brings lots of spunk and energy to this leading role. She's brilliant - and it's just as well. If her performance wasn't strong enough, the whole show would struggle.
Not that the diverse ensemble cast is slack either. Chika Ikogwe is a standout as Jules, one of Edna's close friends, and James Majoos, playing another obsessive who writes fan fiction with Edna, is remarkable (Majoos had been cast in the lead role in the musical Everyone's Talking About Jamie, which has been delayed. We can only look forward to seeing Majoos when it's rescheduled).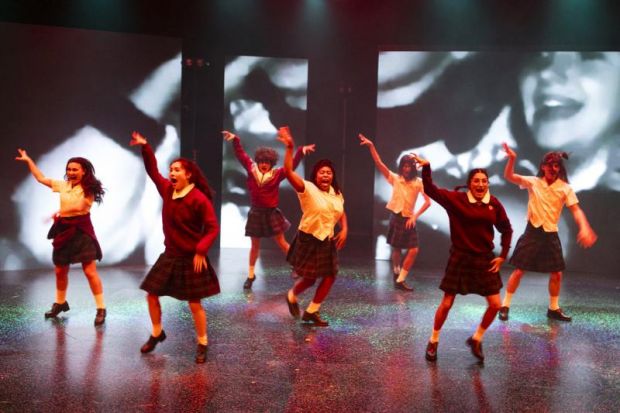 Fangirls has lots of great numbers centred around the themes of growing up and girl power, as well as some concert performances by Harry (played by Aydan, a real pop star). And in the second act, as Edna's actions to attract Harry's attentions go too far, we get the true heart of the show. These may be teenage girls overly worried about being fat or ugly - but do we ever really grow out of that as adults? And can we blame a teenager for falling in love with a pop star when most of his songs continuously profess his love for them?
But ultimately this sparkling show is about celebrating the fanatic in all of us. With strong songs, witty writing and wondrous performances, this "Fangirls 2.0", as Blake dubs it, will continue to wow audiences as it embarks on a national tour. It's exactly the type of new musical we need in Australia — innovative, fun and possibly changing the way we see the world (even if in a very small way). It won't immediately appeal to everyone but those who see it will rejoice. Join them if you can.
Peter Gotting
Photographer: Brett Boardman
Read the first 8 pages of the script and purchase copies here