The Farndale Avenue Housing Estate Townswomen's Guild Dramatic Society's Production of A Christmas Carol
By David MacGillivray and Walter Zerlin Jr. Darlington Theatre Players. Directed by Gail Palmer. Marloo Theatre, Greenmount WA. Nov 19 - Dec 4, 2021
The first Christmas themed show of the season, Darlington Theatre Players present this show-within-a show, about a dramatic society where everything is going wrong. In a slight case of life imitating art, this show had a rough last few weeks of rehearsal - but has successfully made it to the stage.
For those who have seen a Farndale show before (and there are 9 others in the series), the characters are familiar. Sandra Sando plays society president Mrs Reece, with authority. Chloe Wiggers brings self-assurance to leading-lady Thelma Greenwood - a little younger than she is normally played - but it works well. Belinda Beatty is sweet as accident-prone Mercedes, Rebecca McRae makes a sweet Felicity, Amanda Maloney, often working offstage in real life, brings that experience to the on-stage role of Stage Manager Mandy, while Chris McRae plays reluctant actor Gordon - especially lovely in drag. Special mention to a final actor, lets call her Alana Smithee, whose appearance is a delight.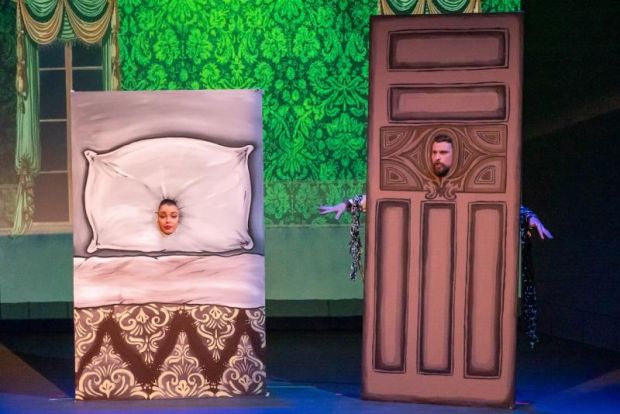 Coarse acting is notoriously difficult, and requires near-perfection when the performers are not deliberately pretending to accidentally stuff-it-up. This show sometimes falls off the rails - as we don't always have crispness when we should, meaning the show doesn't quite flow perfectly (or perfectly badly for that matter).
There are some great properties that misfire perfectly - kudos to Lesley Sutton, Luke Miller and Richard Palmer, and an expertly unfinished set designed by Gail Palmer and Shelly Miller. Lighting Design (Shelly Miller again) serves the show very well as does the sound design (Iain Martin and Guy Jackson). Gorgeous costuming is designed by Marjorie DeCaux and we can see why Mrs Reece is so proud of her red frock. Projections (Shelly Miller) add some Dickensian atmosphere.

The Farndale Avenue Housing Estate Townswomen's Guild Dramatic Society's Production of A Christmas Carol should appeal to community theatre participants and regular theatre-goes and is some end-of-year fun.
Kimberley Shaw