The Farnsworth Invention
By Aaron Sorkin. New Theatre (NSW). Director: Louise Fischer. July 13 to August 13, 2011.
Through a Wikipedia wormhole brightly!
Big ideas are often simple, but explaining them can be damnably complex. And sometimes the inventors lie.
Interpersonal communication lies at the heart of this tall tale of the creation of the two most significant communication devices in human history.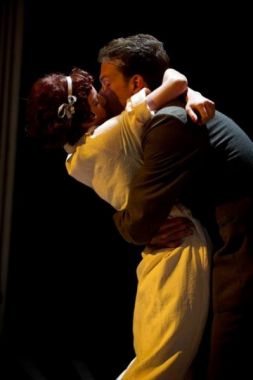 Over two hours we learn that inventing television and radio were not easy tasks for Philo Farnsworth and David Sarnoff. Particularly when each was running a race against the other on opposite shores of the USA. In this time of Killer App entrepreneurs; intellects were large, emotions charged and funding scarce. To heighten the drama of this fact-soaked saga of two battling IP titans, the author, Aaron Sorkin (West Wing, The Social Network, A Few Good Men) manipulates history to create a 20thcentury fable of a David and Goliath locked in an intellectual and commercial chess game that will potentially vastly enrich the winner and all mankind. Although Sorkin seems to have his tongue firmly in cheek when his characters speak of the earth shattering importance of TV and radio and the need to keep them free from commercial pollution (Sorkin made his fortune from network TV).
Our struggle is coming to grips with so much information delivered by a score of characters in dozens of scenes covering 50 years or more. But the deft touch of director Louise Fischer, an excellent design and production team and 19 capable cast members make what's complex seem straightforward and, more importantly, extremely enjoyable. Bravo!
Stephen Carnell
Photographs (c) Misha Baka
To keep up with the latest news and reviews at Stage Whispers, click here to like us on Facebook, or follow us on Twitter.