The Fastest Clock In The Universe
By Philip Ridley. A Four Letter Word Theatre production directed by Robert Chuter. The Loft – Chapel off Chapel, Prahran (VIC). 21-31 January 2015.
It's Cougar Glass' twelfth 'nineteenth' birthday. In a moldy flat in a crumbling building, this sociopathic narcissist pretty boy refuses to acknowledge the passage of time and thus his real age. He goes into a catatonic rage if anyone mentions either. Should this happen, his sadly acquiescent, bald, older partner and lover (if he's lucky), Captain Tock, summons their landlady, Cheetah Bee – who really is old– to talk him down. 'I am at the end,' she chants, Captain Tock joining in, 'but you are at the beginning.'
Captain prepares for the ritual birthday celebration (the cake, the table, the fake birthday cards), even while knowing that there will be only one guest, a schoolboy whom Cougar plans to seduce. All goes according to plan – albeit in rather drawn-out fashion. (Robert Chuter's direction needs rather more pace, movement and contrast in this first half.) The schoolboy, Foxtrot Darling, duly arrives, gawky, shy and so eager to please Cougar, his new best friend. William Freeman, as Foxtrot, injects some much needed vitality and humour into the proceedings. But then, there's a surprise addition to the party, someone who's onto Cougar's scheme and will derail it. At the end of Act One, there's almost the feeling that the play's story is over. But what will Cougar do about this reversal?
Act Two is a lot more fun. This is mainly due to more of Mr Freeman (a little over the top, but what the show needs) and Scout Boxall as Foxtrot's pregnant fiancée, Sherbert Gravel. Amazingly, Ms Boxall, a literature student, has had no drama school training at all (!), but she has a fine sense of theatre and beautiful comic timing. She is the hit of the evening. But then she has the best part, a fact repeatedly noted by reviewers of previous productions. She's a raucous but incisive motor-mouth, in her way as ruthlessly exploitative as Cougar, but tougher and braver. If only her agenda had not been so immediately apparent. Brenda Palmer as the landlady and peacemaker, Cheetah Bee, is a trouper, but unfortunately her naturalism lacks the oomph and style to carry off the heightened nonsense required. Ian Rose plays Captain low key, reacting to the others sensitively, balancing helpless dependence and muted aggression – the latter breaking out, with some glee, when he can ally with Sherbert against Cougar.
As for Robert Ricks as Cougar, he's apparently the draw for the gay audience, judging by the poster, but he seems, firstly, too young to play an aging roué. Secondly, the poor fellow doesn't have a lot to do. In the first half, he's irritable and nasty and postures around the stage in his Y-fronts or his white T and jeans. In the second, he sulks for almost half the time. Mr Ricks doesn't really make it clear whether Cougar has any charisma or is simply pathetic, propped up by Captain's desperate adoration. As a character, he appears to have no context, nothing but his obsessions and Captain.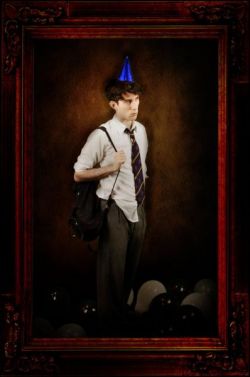 The action is confined to designer Robert Smith's kitchen/living room, decorated with Captain's painted, stuffed or porcelain birds. The building is infested with live birds – and an exterminator has been brought in, but to no avail it seems. The living birds' cooing and rustling make up part of Tom Backhaus' otherwise mysterious and intrusive sound design – as mysterious as the significance of the birds – real or artifact – themselves. Do they represent freedom denied? Confined? Dead? They feel almost as random as the characters' silly names – names that signal, 'this is a fable'. I think.
Revived in 2009 and 2013, this 1992 play, yes, received almost unanimous accolades with four and five star ratings. In 1992, Philip Ridley received the London Evening Standard's Most Promising Playwright Award. I wonder would he today – at least for this play, since he has now written several others.
The play fits into a sort of late 80s, early 90s genre: domestic horror edging into the surreal. The text bristles with references and ideas. The set-up, for instance, echoes Alan Bennett's 1987 film script for Prick Up Your Ears, the story of Joe Orton's and Ken Halliwell's 'marriage' – that ended rather badly. But as the show goes on, one thinks of Orton himself, of Harold Pinter, of Tennessee Williams and Edward Albee. These echoes can't help but remind one that Orton, Pinter, et al. are rather better than what we're seeing: more focused, clearer, less erratic and less gratuitous. But the echoes and allusions (and, indeed the ability to recognise them) clearly give the play some cachet with some people.
My difficulty is that, having alluded to all these precedents, Mr Ridley doesn't really do much with them; in retrospect the enterprise feels thin and padded out with such tangential arias as Cheetah Bee's story of animal torture and slaughter when her husband's furrier business occupied the building's basement. Possibly that syncs with Cougar's pronouncement that the world is an abattoir. If so, it doesn't really mesh, isn't really illuminating. The play's Pinteresque sense of menace is weakened when it veers off into humour or excess. Dancing around 'timely' or 'still relevant' issues such as narcissistic obsession with aging and body image isn't really enough either. Despite this, the play feels dated. If you're going to push the envelope, you need more substance than this with which to do the pushing. Not surprisingly, after the play's sickeningly horrific 'climax', the conclusion of the fairy tale told by Captain and the play's final lines are sickeningly sentimental. Or shocking. Unless they're ironic. You can have it three ways, can't you? If you want to know what the title means, you must stay to the end.
Michael Brindley