Faust by Gounod
Melbourne Opera. Director: Hugh Halliday. Musical Director: Greg Hocking. Athenaeum Theatre, Melbourne. June 18 – 26. Alexander Theatre. July 1.
During the late nineteenth century Faust was the most popular opera in the world. Alas no more, and it is 25 years since the last performance in Melbourne. So Melbourne Opera's production was eagerly awaited, and did not disappoint.
It was dominated by the Mephistopheles of Steven Gallop. His big voice and personality were just right for this role, though he was also able to scale his voice back to balance the other singers in the act 3 quartet although he was a little too exuberant in the duet with Faust in act 1.
I have been a fan of David Rogers-Smith for many years, and this role suited him. All the top notes were there, and he will grow in the role. I hadn't heard Danielle Calder, who sang Marguerite, for some years and was impressed with the improvement. The voice is bigger and more beautiful than I recalled though I would have preferred the voice to soar more in the last act trio. Her love scenes with Rogers-Smith were convincing.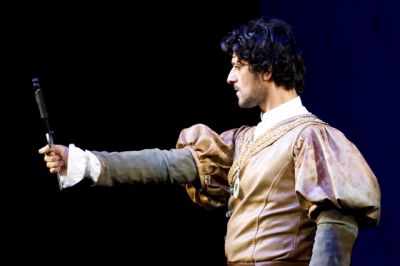 Phillip Calcagno as Valentin has also developed a much larger instrument in recent times, but has lost some of the polish along the way. His fight scene with Faust was well managed and his death scene dramatic.
The small stage was cleverly used, with judicious use of lighting and flown sets. After tentative starts, the orchestra and chorus acquitted themselves well.
Congratulations to Melbourne Opera on putting such a strong case for this forgotten opera to be kept in the repertoire.
Graham Ford
Images: Top - David Rogers-Smith (Faust) and Danielle Calder (Marguerite) in Melbourne Opera's ŒFaust. Lower - Valentin (Phillip Calcagno). Photographer David Wyatt.
To keep up with the latest news and reviews at Stage Whispers, click here to like us on Facebook, or follow us on Twitter.