Festen
By David Eldridge, adapted from Thomas Vinterborg's screenplay of the 1998 Danish Dogme film Festen. Red Phoenix Theatre. Holden Street Theatres, Hindmarsh May 26 – June 4, 2022
As the Margo Channing says in All About Eve, "Fasten your seatbelts, it's going to be a bumpy night!'.
Festen is a British stage adaptation of the 1998 Danish film of the same name. It was first presented in 2004 in London and has been staged all over the world since.
It concerns a family group who gather at the house of patriarch and expert in mind games Helge for a black-tie dinner to celebrate his 60th birthday. Seemingly, the only dark clouds on his horizon are his unpleasantly violent, racist son Michael and the sadly mysterious recent death of his daughter Linda.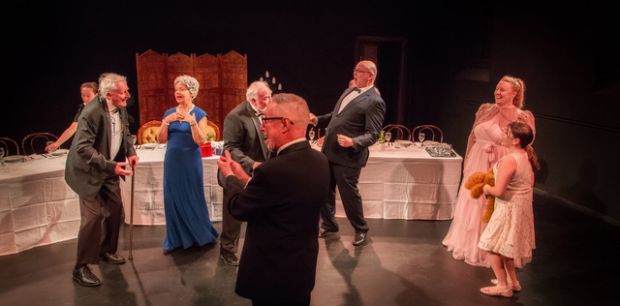 As everybody sits down to dinner and the speeches commence, a distraught, heartbroken son, Christian stands up to speak. He gives his father the option of two speeches, yellow and green. His father selects the green or the truth speech. By the time he has completed his accusations of incest and rape against his father, nothing can ever be the same again.
Director Nick Fagan skilfully draws every ounce of emotion and tension from his cast, often combining characters from three different rooms into one while keeping the action flowing seamlessly on a simple, yet effective set enhanced by Richard Parkhill's moody lighting.
On opening night Fagan also stepped into the role of Lars, replacing Stuart Pearce who had developed COVID.
Festen features a strong cast of fifteen headed by Adrian Barnes and Brant Eustice. Barnes' Helge is a father living with a secret and in denial; he lives a lie until forced to confront the truth. Barnes plays him with quiet strength and conviction supported by Lyn Wilson's Else, his wife, who is steadfast until taken to breaking point.
Eustice's Christian is a damaged man. Having lived with incest throughout his childhood and adult life, he now finds it difficult to share any intimacy with the woman he loves. Eustice gives the performance of a lifetime. We are drawn into his torment and share his grief and rage. He gives a tour de force performance.
His abusive brother Michael, powerfully played by Nigel Tripodi, along with Georgia Stockham and Sienna Fagan playing Mette and their daughter offer another side of the family, a marriage in crisis and a son shunned by his father.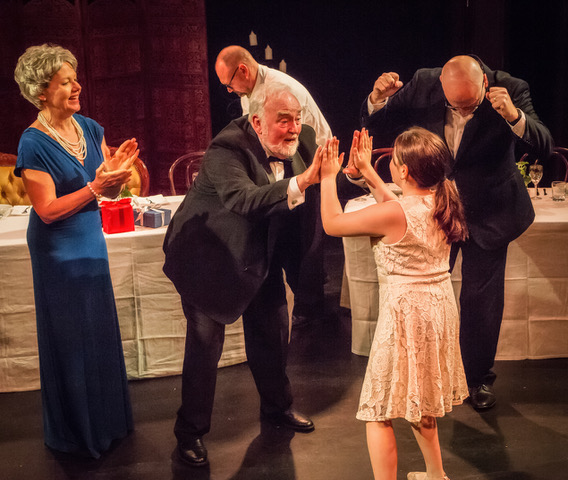 Claire Keen's Helene, Christian's sister, is caught in the middle of the family conflict and torn between the love for her brother and her father's deceit. Keen gives a beautifully moderated performance.
Cheryl Douglas' steadfast Pia looks past the damaged Christian and sees his true worth as a man.
The dinner scene in act two introduces the rest of the characters - Gary George's Helmut, the friend who attempts to hold the dinner party together; Joh Hartog's Grandfather, who sails through the party oblivious with mild dementia and hearing problems; Geoff Revell's Poul, who is fighting depression and would rather go home; Stephen Tongun's Gbatokai, Helene's boyfriend; Russell Slater's intoxicated chef Kim and Carmel Boffa's maid.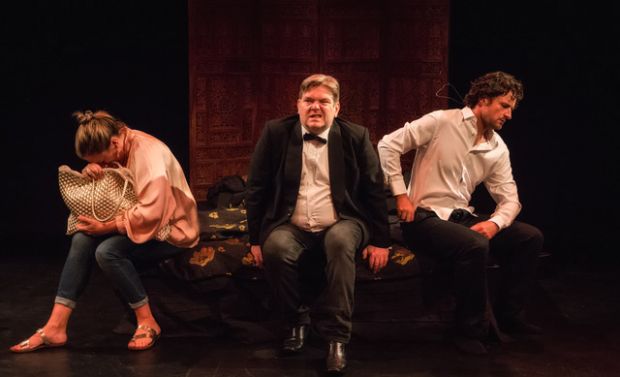 Any play that features food is a test for the props department. Heather Jones and Carmel Boffa (aided by the cast) do not disappoint and present a convincing two course meal with drinks.
For me, the first scene was a little forced, but this could have been opening night nerves.
Festen is a powerful, important piece of theatre that deserves full houses. It packs an emotional punch reminding us that things are not always as they seem!
Barry Hill
Photographer: Richard Parkhill