Fiddler on the Roof
By Joseph Stein, Jerry Bock & Sheldon Harnick. Gosford Musical Society (NSW) Laycock Street Theatre, Gosford. Director: Ted Williams. October 28 – November 19, 2011.
This is the third Gosford Musical Society production of the popular, challenging Fiddler. Though renowned for its catchy songs ("If I Were a Rich Man", etc) and warm community celebrations, the 1964 musical is based on some distinctly unfunny Russian/Jewish history, early 20th century anti-Semitism that would lead directly to the Holocaust. When milkman Tevye (Michael Burke) leads away his broken family, expelled by shrugging constables from their traditional village, a chill of fear thwarts any thought of an upbeat ending. The final number is a full-company prayer.
Tevye is the pivotal (Topol, Zero Mostel) role. Baffled and broke, he chats directly to the audience and to God, battles his wife and balances the conflicting desires of his five daughters. Burke is a tall, commanding figure with a rich and powerful voice, but he lacks the twinkling lightness and stand-up-comedian slyness essential for the star task.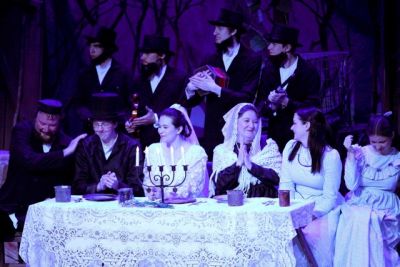 Though hampered by a mixed collection of 'Eastern European' accents, the large cast give solid support, notably Margaret Holdom as Yevte's wife, Diette Yoshioka and Josephine Gleeson as his two elder daughters, and beanpole Gareth Isaac as the village tailor, a prospective son-in-law who also lusts after a Singer Sewing Machine.
At well over 3 hours, it's a long evening: veteran director Ted Williams should perhaps have hustled things along more briskly. GMS is tops for the look of their shows. The beautiful, solid sets (Daryl Kirkness) and multiple costumes (Phyllis Horne and Narelle Wotton) are hugely impressive, as are the design and operation of lighting (Damian Rice) and sound (Dean Harrington). It's a pity the excellent orchestra must remain hidden all evening.
Frank Hatherley
To keep up with the latest news and reviews at Stage Whispers, click here to like us on Facebook, or follow us on Twitter.