Fidelio
By Beethoven. Melbourne Opera. Director: Hugh Halliday. Musical Director: David Kram. Athenaeum Theatre. February 2 – 10, 2013.
There was a lot to like about Melbourne Opera's production of Fidelio. After a few shaky entries in the overture, the orchestra under David Kram hit its stride. The Leonore Overture at the start of Act 2 Scene 2 was a highlight with well-deserved prolonged applause. David's influence could also be seen in the ensembles, which, with a couple of exceptions, were well-balanced.
Moving into the modern era did not detract from Hugh Halliday's production and he made good use of the fly tower to fly the office out to reveal the prison yard. The lighting was also effective. I don't recall the full stage being used before so it wasn't as cramped as in past productions. This was good as there was a large male chorus.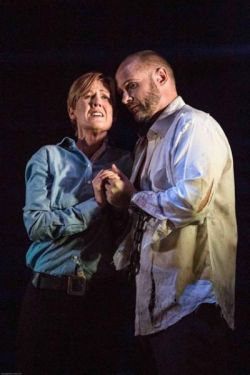 Fidelio is not often staged, mainly because of the difficulty in finding singers for the main roles. Donna-Maree Dunlop was everything one could want as Leonore in a small theatre. With her short hair she looked masculine in the disguise as Fidelio, and her voice had the requisite bite to cut through the orchestra.
Unfortunately Jason Wasley did not have the same vocal equipment. He has a good tenor voice, but not the steel required for the role, though I know of noone else in the MO roster that does. Fortunately he did not over sing to try and compensate, but was often lost in duets with his partner. They were a convincing couple.
Steven Gallop was a sonorous Rocco and Roger Howell a strong Pizzaro, though his tendency to swallow his words was frustrating. Fiona Jopson and Brenton Spiteri were excellent as the young couple.
At the end the applause was loud and long. Hopefully the Melbourne public will get the word and support this brave venture.
Graham Ford.
Images (from top): Roger Howell as Don Pizarro, Donna-Maree Dunlop as Leonore and Jason Wasley as Florestan; Donna-Maree Dunlop as Leonore and Jason Wasley as Florestan, & Fidelio finale, Melbourne Opera.