Fool for Love
By Sam Shepard. Directed by Gabriella Rose-Carter. Q44 Theatre Richmond (Vic). June 10th -28th, 2015
Once again I find myself singing the praises of a small independent theatre company with impeccable taste and a thirst for excellence. Sam Shepard's play on the nature of love is not an easy one to handle. It deals with concepts of love/hate, obsession, guilt, dysfunction, abandonment, shame and betrayal (all within a real-time framework of 70 minutes), and yet manages to find comedy and some lightness within the context. It's deceptive, and so multi-layered that you need time to think about it afterwards.
Written in 1983 when Shepard was in the process of leaving his wife and daughter to live with actress Jessica Lange, it tells the story of May and Eddie – long-time lovers who try, but cannot manage, to break the cycle of their ultimately destructive love. Intrinsically linked to their story is a decent, but not too bright, handyman Martin – who seeks to woo May, and an old man who lives only in Eddie and May's subconscious and yet binds them even closer together.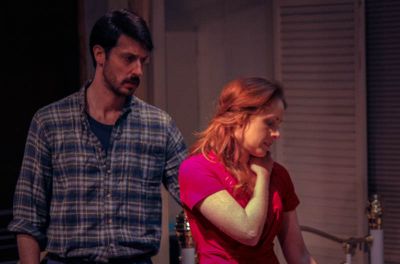 Director Gabriella Rose-Carter (whose commitment to theatre in general and Q44 in particular is simply awesome) has assembled four astonishing young actors, all of whom she has had a hand in training. Clearly that training is exemplary. All of them give exemplary performances which come from a place of truth and honesty, with the technique deeply buried, as it should be. We want to know the technique exists, but we don't want to see it. When performances are this good it's easy to lose yourself in the story and the honesty – and that's what good theatre should be about.
Rebecca Fortuna (May), Mark Davis (Eddie), William Prescott (Martin) and Sam Allen (Old Man) are all names to remember. If there is any justice in this most unjust of professions, you will hear about them loudly and often. But even if you don't, look for them …I am sure they will always act, because they are compelled to. All are professional with excellent credits; and all are totally committed to their director's vision.
Fortuna's May is all red headed passion and wildly attractive, but the underlying pain and uncertainty are palpable. She's quite marvellous.
Davis, as Eddie, is mesmerising, charming and yet threatening. It's a multi-faceted and totally convincing performance and it's astounding that this is only his second stage production after forays into television.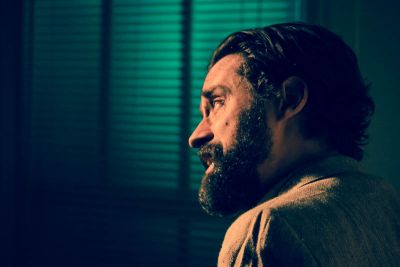 William Prescott – with a background in stand-up and music – imbues Martin with a down-home sense of decency. His body language and facial expressions paint for us a man totally out of his depth and trying desperately to keep up with what's happening around him. Sam Allen's Old Man is an enigma until the denouement, yet Allen makes him real and appealing without any physical aid to convey his age. It's a masterful performance, complete with the slight tremors of the aged and the eye roll of someone searching for a memory. In many ways, he is the most appealing superficially, until we are confronted with the truth and understand that the appeal is what allowed him to screw up so many lives.
Rose-Carter directs them with confidence and empathy. The Q44's theatre is an odd little space and doesn't allow for any great or sensational blocking. But Rose-Carter doesn't need it…she uses the space in a natural way and forgoes flashiness in favour of truth, and that is such a blessing. Her actors are constantly listening, constantly reacting, and totally involved.
Despite the miniscule space and budget, lighting and special effects and the sound-scape are all excellent, as is the set. And afterwards the fabulous Lilly Jones catered a great supper for us. Thank you Lilly. This is very special theatre and a credit to every person involved. You need to see it to re-affirm your belief in good theatre.
Coral Drouyn
Photographer: Phil Speers