Footloose
Footloose By Dean Pitchford and Walter Bobbie, based on the screenplay by Dean Pitchford. Music by Tom Snow (and others), lyrics by Dean Pitchford. The Regals Musical Society Inc. Rockdale Town Hall. May 16 – 24, 2014.
For much of Footloose, the stage musical adaptation of the popular film, plot constraints limit the opportunities for the energetic dancing of an enthusiastic, youthful ensemble, The Regals' production's shining asset.
Do these teens spend nearly as much time in church as they do cutting loose?
Local minister Rev. Shaw Moore has banned dancing in a small American town after the death of four local kids including his son, restricting big dance numbers to two lively versions of the Footloose title song, at the opening and the Rev's change-of-heart school dance finale, plus a couple of acts of rebellion mid-show.
Blessed with such a great young ensemble, you're hanging out for far more of these lively dance numbers than the plot allows choreographer Tracey Rasmussen to dream up.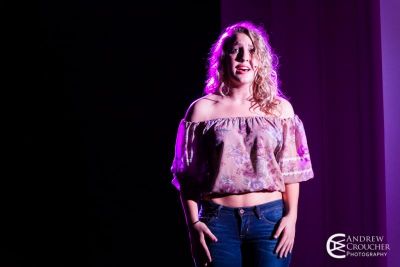 Yet if much of the show is more about singing than dancing, performers in key the teen roles don't disappoint, delivering strong pop vocals and personality-plus. Charisse Graber's "Let's Hear It For The Boy" probably ranked as my favourite, though Sam Larielle delivered assured vocals on "Footloose", and elsewhere, as rebel with a cause and newcomer to town, Ren. As the minister's rebellious daughter Ariel, Jamie Raabe handles her share of the pop score impressively, though a special highlight comes when she shares a show-stopping trio, "Learning to Be Silent", with 'adult' cast members, harmonizing splendidly with Stacey Wilson (her stage mum, Vi Moore) and Susie Hoggard (Ren's mum Ethel McCormack).
If the 'threat' fell just short of 'triple' among the youthful performances on opening night, it certainly wasn't their dancing or singing; first night nerves saw younger actors rush their dialogue. As the adrenalin rush of opening night subsides, I'm sure teen characters, seen to particular advantage in promising moments like Ren and Ariel's late show scenes with Rev Moore, are certain to be more consistently fleshed out.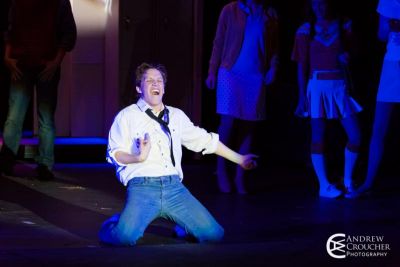 Of the adult roles, Rev Shaw Moore and Lili Moore are easily the most rewarding. Peter Sharratt and Stacey Wilson find plenty of truth in these roles, and in their relationship as grieving parents, layered with subtext. Ms Wilson has a resonant music theatre voice and nails her moving Act 2 ballad 'Can You Find it in Your Heart'.
You're sympathetic, too, for Susie Hoggard as Ren's deserted mum, though other adult roles, generally capably played, are mostly plot-advancing cameos.
Ostensibly a teen musical, the big personal journey of Footloose is Rev Moore's, climaxing with his sermon, which receives a heartfelt delivery from Mr Sharratt. Maybe, though, the writers would have done even better sticking to tried and true musical theatre formula, with an '11 o'clock number' for the preacher, instead of letting their score dwindle away into a couple of reprises, pre-sermon. I know I'm diverging from the current production (but the actual musical does have flaws), and what a segue they might have given us into the evening's joyous, barnstorming full cast 'Footloose' finale.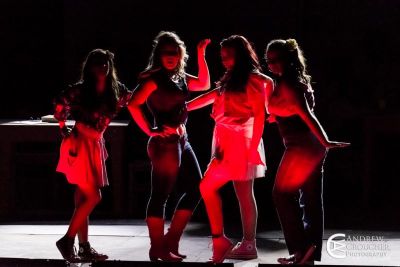 Like any film adaptation, the stage Footloose has numerous scene changes. Co-designer Paul Riley and director Julian Batchelor have come up with a viable, coherent staging concept, while the movement of props and set pieces will continue to grow more fluid as the season progresses.
Musical Director Julie Ryan's compact band provides good support throughout, achieving both the pop and music theatre sounds demanded.
Sitting in the new raked seats at the rear of the auditorium, I realise what a good theatre experience is to be had from all sections of the newly renovated Rockdale Town Hall, now a far warmer, seemingly more intimate space.
Infectious youthful energy and enthusiasm carries the night in this bright pop music fable, with the promise of an even better season from this vibrant young cast once all the dialogue finds its pace and rhythm.
Neil Litchfield
Images: Andrew Croucher Photography.