Forbidden Broadway – Greatest Hits Volume 1
Created & Written by Gerard Alessandrini. Casa Mia Productions. Director/Musical Director: Sean Fagan. Choreographer: Lynette Wockner. Casa Mia Restaurant, Ipswich, Qld. 14-15 February, 2020
Forbidden Broadway was a bright, peppery show that skewered all things Broadway. Originally created as far back as 1982, Gerard Alessandrini has successfully updated the format during the seasons since, sending up Broadway and its divas in biting, but never malicious, satire. This collection which Casa Mia presented is really a 'Best of' with some items hitting their target with a bulls-eye.
Of course you can't go wrong when you take the mickey out of the most popular shows of the last thirty years - Les Misérables, The Phantom of the Opera and Wicked. Director Sean Fagan has gathered an adept group of six who all had the ability to plunge in the knife with a glint in their eye.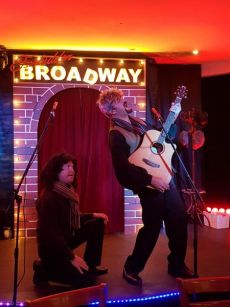 Best of all was Rebecca Kenny-Sumiga, who made a very funny aging and chain-smoking Annie, hoping for one more turn in the title role "Tomorrow". She also got laughs with "Defying Subtlety", with its spot-on caricature of Idina Menzel in Wicked, and "On My Phone", a marvelous rib on Les Miz's "On My Own" with a mobile phone.
Former Ten Tenor Roger Davy lent his impressive vocal chops to Phantom, Fiddler and Les Miz's "Did You Hear the People Sing" finale.
Sandra Harman was an ebullient Carol Channing in a Hello, Dolly! salute, and was wickedly funny in "Chita/Rita", which mixed Chita Rivera and Rita Moreno squaring off as West Side Story's Anita. Andrew Alley nailed Les Miz's "Bring Him Home" send-up "It's Too High" (originally called "Bring It Down") and "Cameron Macintosh", which satirized theatre foyer merchandise bars, whilst Gary Farmer-Trickett was incredibly overindulgent as Mandy Patinkin in "Somewhat Overindulgent", and with Harman got laughs on Spamalot's "The Song They Stole from Us", with its impossible key changes. Nikki Fagan added ensemble charm in Mamma Mia!'s "Dancing Queen" and they all had fun with multiple Edna Turnblads in Hairspray.
Some items are long past their use-by date like "Liza One-Note", a Liza Minelli skit, and likewise a Streisand send-up of her "Back to Broadway" album released in the early 90s, but most of what was on offer was still relevant. Costumes, courtesy of multiple local community theatres, were good, and Sean Fagan, on electric piano, accompanied with skill.
Peter Pinne