Four Flat Whites in Italy
By Roger Hall. Ensemble Theatre (NSW). Director: by Sandra Bates. September 16 – October 15, 2011. Street Theatre, ACT - October 25 - 29, 2011.
I'm very glad to report that this tale of a holiday that did not go according to (highly detailed and definite) plan delights in bringing powerfully home, without overseriousness, the important things in life. Actually, to the contrary, despite having no very obvious dramatic tension and no butt for obvious jokes, the play surprises and entertains with a laugh a minute. And it reveals at least as much about each of the four principal characters and the value of kindness as it does about perceptions of certain rugby players and the value of winning the World Cup.
Seasoned professional actors populated this production. Henri Szeps (the villainous Robert in "Mother and Son"), playing the perfectly crass but relaxed Harry, someone you think you can sum up as soon as he opens his mouth, perfectly counters the over-organised role of Alison that Sharon Flanagan plays with total conviction. Michael Ross's debonaire looks and speech animate Alison's husband Adrian, and Mary Regan is casually perfect as Harry's wife and conscience, Judy.
Set design, simple and versatile, was enhanced by great lighting. Sound was perfect, almost compensating for the very occasional rush in (genuine New Zealand) articulation. The entire performance's perfect coordination placed its truthfulness beyond doubt. This play, for all that it is accessible and genuinely comic, is high entertainment.
John P. Harvey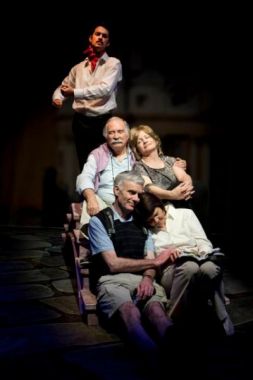 The laughs came thick and fast and so did the recognition. Haven't we all been on a holiday from 'hell' or at least a few days from 'hell'? Roger Hall's play beautifully taps the joy and discomfort of travel.
On this holiday two couples have decided to have the adventure before the dementia sets in, but they are at odds with each other.
Henri Szeps (Harry) is a right wing businessman with his second-wife Mary Regan (Judy) who insists she is 'not a trophy wife' but at times acts like one. With them are retired Labor voting librarians Michael Ross (Adrian) and Sharon Flanagan (Alison).
Harry wants to have a good time, while Alison wants to soak up every bit of culture according to a regimented timetable that Mussolini would have been proud of.
They arrive in Venice, immediately lose their way, get exhausted from dragging their suitcases up steep stairs and eventually find their preferred room at a pensione has been given away so (horror of horrors) they have to share a bathroom.
Other tourist traps are duly set and fallen into…from taking a trip on a gondola to not asking a waiter the price of the red wine before they order it. These scenes were exploited with a deft hand by Adriano Cappelletta as the roving rip off merchant.
The funniest scene is at the restaurant as the couples spar over splitting the bill. Everyone in the theatre was able to nudge their partner and say I've been there, done that.
As well as rather middle class matters to giggle at, Roger Hall's play has romance and a touch of substance as the characters come to terms with grief and loss. These scenes, though, in the second act could have benefited from a tighter presentation.
Plays at the Ensemble Theatre often have a minimalist set – but in this production the designer Marissa Dale-Johnson managed to transport us to Venice, Rome and in a car on the freeways surrounding, in a most clever fashion. The only physical parts were two Roman columns, a small arched staircase (on wheels), restaurant table, deck chairs and the frame of a car. It showed what can be done well on limited resources.
In the opening night audience was David Williamson. This was appropriate as Roger Hall is described as the David Williamson of New Zealand. The playwrights are friends and also share the handy knack of being popular. Tickets for Four Flat Whites have sold a brisk pace.
David Spicer
Images (from top): Sharon Flanagan, Michael Ross, Henri Szeps and Mary Regan; Clockwise from top Adriano Cappelletta, Mary Regan, Sharon Flanagan, Michael Ross and Henri Szeps in Four Flat Whites in Italy. All Photos: Steve Lunam.
To keep up with the latest news and reviews at Stage Whispers, click here to like us on Facebook, or follow us on Twitter.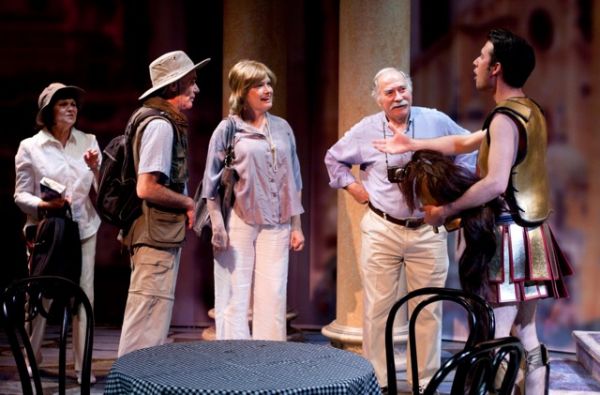 Sharon Flanagan, Michael Ross, Mary Regan, Henri Szeps and Adriano Cappelletta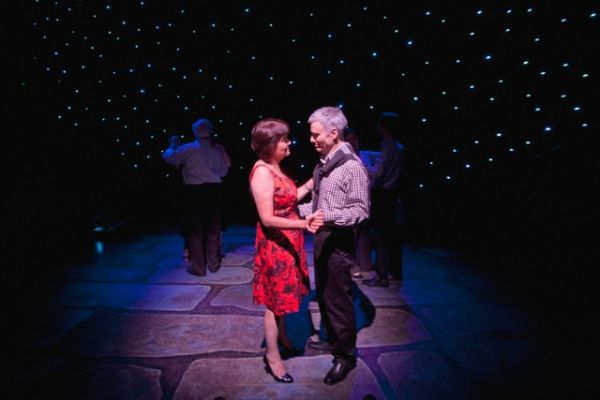 Sharon Flanagan and Michael Ross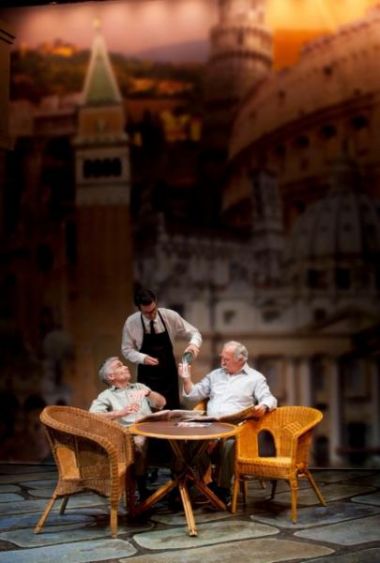 Michael Ross, Adriano Cappelletta and Henri Szeps
Mary Regan, Henri Szeps and Michael Ross