Freefall
Melbourne Fringe Festival. The Burrow - Brunswick St, Fitzroy. September 21 – 30, 2018
FreeFall was an experience that I never realised I wanted to experience again... Until tonight! Theatre makers Kitan Petkovski of Bullet Heart Club and Milly Copper from Wielding Theatre have combined forces and created a performance reeking with blurred moments and dreamscapes from the drunken night out that haunts your clubbing days of time gone by (well, for me anyway)!
A brilliantly cast ensemble of performers, who are also credited as writers, work symbiotically on the small stage, faced head on by a row of seats either side of the performance space.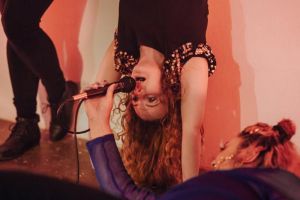 This is 'a place where anything can happen. A liminal space that invites you to not only be yourself, but be the best version of yourself. Dance to express and forget.'
I think it shows a exceptional creative team, where two directors can work together so harmoniously to collectively devise a piece of theatre where you couldn't see the singular moments that would divide their directing styles. Devised theatre in Melbourne is a burgeoning area; Petkovski and Cooper's work is some of the best I have seen.
Total standout moments in the hour run time were:
Sophia Simmonds face when blowing her hair with a hairdryer, absolute classic 70s disco styling!
Ellen Grimshaw's manic, frenzied screaming toilet monologue, toilet included.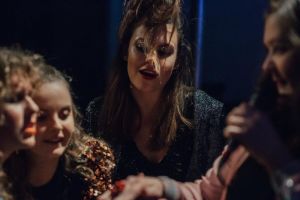 My favourite moment was the burning bright star of Allie Whitmore. Her 'dancing with strangers' monologue was a quiet soft moment in the chaos, where her peaceful voice enveloped the entire space with tenderness and wisdom that belied her years.
The Burrow was the perfect venue for this show - an obscure place you've never heard of (unless you're 'in the know'), where you have to enter via an alleyway. The ambient sounds of Brunswick Street, loud tram noises included, were tightly woven into the show. Clever lighting design by Caitlin Overton and live sound mixing by DJ Mortise and Tension completed the FreeFall experience.
In all of the shows you could see at the Melbourne Fringe Festival, FreeFall is definitely well worth the ride!
Penelope Thomas
Photographer: Jack Dixon-Gunn