The Full Monty
Music and lyrics by David Yazbek and book by Terrence McNally. Theatre & Company. Lennox Theatre, Riverside Theatres Parramatta. September 14 – 21, 2019.
Theatre & Company's current production of the hilarious and risqué musical of The Full Monty, with music and lyrics by David Yazbek and book by Terrence McNally, was a very enjoyable night, full of high-quality performances and directional choices.
A group of long-term unemployed men from Buffalo N.Y. get together to put on a "one night only" strip performance. They go the "Full Monty" to make a motser and earn some respect from the community and some of their partners.
The show has a lot to offer for male theatre performers, and this (younger than normal for this show) cast all shone in the characters they conveyed. They were well complemented by the talented female cast, with smaller roles and two particularly outstanding performances on display.
This show particularly relies on the comedy stemming from the awkwardness of the actors, recruiting the men for the strip routine, rehearsing it and finally getting the courage to perform it (in the finale of the show). The cast in this production were brilliant in their performances and really made you feel for each of the six men who performed the "Full Monty". A real difference in this production was having the roles of Horse and Harold performed by younger actors than those normally cast. I believe there could have been even more comedy explored in having older actors, but take nothing away from the two actors who played these roles as they were both outstanding.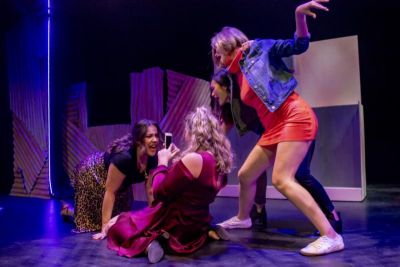 Peter Meredith and Luke Lamond played Jerry and Dave, the two best friends who come up with the plan to do the one night only strip. Meredith's vocals were brilliant, hitting all the high notes in his solos and ensemble numbers, highlighted in his number about his son, "Breeze off the River". It was great to see such a believable friendship between the two mates. Lamond acted the over-weight Dave role superbly and had great chemistry with Sophy Carol as his wife Georgie. Carol was the standout from the women's cast, very strong in all aspects of performance. Other cast members worthy of mention were Cian Dowd as Jerry's son Nathan, who really held his own within such a talented cast. Guy Webster plays Malcom - the mother's boy - nervy role within the bunch. Webster's delivery of the number "You Walk with Me" was a highlight for me, performed with such conviction it proved a real tear jerker. Julianne Horne played the tragic rehearsal pianist character Jeanette. Horne's comic timing was spot on, combined with an electrifying performance of "Jeanette's Showbiz Number", that started Act 2 with a bang.
The Production Team of Adam Haynes, Callum Close and Melissa Ayers, as Director, MD and Choreographer respectively, have pulled together a high standard of performance from a cast that has gelled together brilliantly. Directorial choices aplenty were brilliant, from breaking the fourth wall and including audience twice in the piece, to using levels on stage during the number "The Goods", having the women looking down on the men and picking out their flaws etc.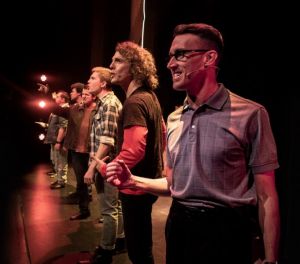 The Set Design was simple, with a rustic feel and good use of sliding beds pushed back into the set, while the car scene was brilliant. Some set changes were clunky though, and having cast move props and set in blackouts, out of character, sometimes broke the fluency of the show.
Close's band seemed flawless, although sound wasn't always balanced in the venue, though I'm will be sorted out after opening night.
Ayers' choreography was a thrill to watch. Some of the numbers had highly intricate steps which all cast members performed without a hiccup.
Theatre & Company are only a relatively new group to Sydney's theatre scene but have provided high quality in all their shows I have seen. There's still have performances this coming week, including some Adults Only nights, so get along for a great fun night out.
James Russell