Fully Sikh
By Sukhjit Kaur Khalsa. Barking Gecko and Black Swan. Directed by Matt Edgerton. Studio Underground, State Theatre Centre of Western Australia, Perth. Oct 10 - Nov 3, 2019
The World Premiere of Fully Sikh is a vibrant, clever celebration of Sikh and Punjabi culture, that is funny, warm and subtly informative. Proving very popular. this Barking Gecko and Black Swan Co-Production has already been extended, and deservedly so.
Written by and starring slam poet Sukhjit Kaur Khalsa, this is a one woman show that tells about Sukhjit's growing up in a Perth suburb, as a brown, hairy Sikh girl. Sukhjit blends poetry, comedy and the occasional pun in this beautiful story of family, self-realisation and acceptance. Not only is her writing excellent, but Sukhjit is a dynamic and personable performer who seems to personally welcome every audience member into her family home.
On stage musician and composer Pavan Kumar Hari provides musical accompaniment on a variety of instruments, including the traditional Harmonium and Tabla, as well as modern instruments and even pots and plans. More than just another (excellent) musician, he adds colour and humour, reveals some impressive dance skills and even plays a character or two. Tim Collins' sound design allows the traditional and contemporary to blend beautifully.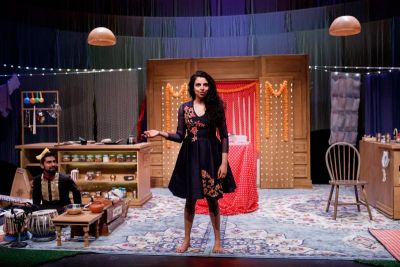 Isla Shaw's magic jewellery box of a set, beautifully creates a family kitchen, but also opens to reveal a plethora of surprises. Costumes are lovely, and the show is creatively lit by Lucy Birkinshaw.
This is an engaging ritual of a show that begins with the audience removing their shoes and ends with a Shabad (sacred song). The first Australian Sikh story to grace professional theatre in Australia, Fully Sikh is a wonderfully celebratory show, guaranteed to warm your heart.
Kimberley Shaw
Photographer: Daniel J Grant