A Funny Thing Happened on the Way to the Forum
Music and Lyrics by Stephen Sondheim. Book by Burt Shevelove and Larry Gelbart. Richmond Players (NSW). November 2 – 23, 2019
First produced in New York in 1962 and London in 1963, this musical based on a comedy written by the Roman playwright Plautus some time in the second century BC, has graced many stages – if 'graced' is the correct word for a musical that is full of puns, naughty innuendo and pratfalls! Whatever, it's been around for a long time and it still makes people laugh!
The witty Latin names, Sondheim's clever lyrics and the crazy plot, lets A Funny Thing Happened compete with the 'darker' more 'meaningful' plots of modern musicals. But it needs to be fast, and at the same time clear, so that the humour of the script isn't lost. Much of that depends on the narrative charm and charisma of Pseudolus, played in this production with enthusiastic style by Matthew Barry. Under the practised direction of Diane Wilson, Barry carries the weight of this role with admirable ease, his chatty banter coaxing the audience into relaxed acceptance and expectant laughs.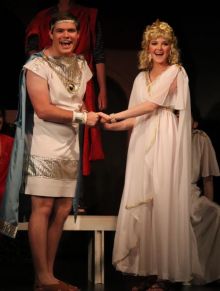 Barry moves energetically around the stage, singing, dancing, introducing characters and manipulating them through the bizarre plot with the help of the busy Proteans, played by Nelle Grimshaw and Catherine Gregory, who take on a multiplicity of roles and responsibilities. Roles such as these are essential to sustaining the pace of the production, and Grimshaw and Gregory not only achieve this, but do it with comedic pizazz. Their expressive faces, absurd poses and split-second costume changes are highlights of the production.
Ethan Fitzpatrick, too, uses comic timing well as the 'top' slave, Hysterium. Fitzpatrick finds all the possible dimensions of this 'straight' character, matching Barry's energy and commitment. They play off each other well, especially in the comic final scenes of the production.
Senex and Domina, their master and mistress, are played by Ben Wilson-Hill and Catherine Simpson, both performers delivering their suggestive lines with eccentric poses that show off their patrician costumes. Hero (James Warren-Smith) and his virginal lover, Philia (Jaqueline Attard) are righteously virtuous and innocent, singing their love songs with youthful joy despite the fact that Philia has been bought by Miles Gloriosis, the self-absorbed military captain, a role shared over the run by Nick Noel and Peter Gollop.
Sean Duff limps up and down the hills of Rome as Erronius, an aging father in search of his missing children, and Aurel Vasilescu plays Marcus Lycus, the dodgy procurer and seller of courtesans. The courtesans themselves – Madz O'Hare, Paige Peters, Ashleigh Grimshaw, Irene Toro and Anwen Gregory – pose, dance and sing in costumes that add extra zing to the production.
Dianne Wilson and musical director Greg Crease bring their usual momentum and polish to this production. With Dianne McKenzie's colourful costumes on Andrew McMaster's set, the cast make the most of this zany, Roman romp and its many songs, funny asides and crazy characters.
It's playing in theatre-restaurant style on Saturday afternoons and Saturday nights through November.
Carol Wimmer
Photographer: Samantha O'Hare