Future Remains
Diary of One Who Disappeared by Leoš Janáček, with a new libretto by Pierce Wilcox & Fumeblind Oracle - Composer Huw Belling and lyricist Pierce Wilcox. Sydney Chamber Opera. Sydney Festival. Carriageworks. Jan 6 – 10, 2021
In this its seventh Sydney Festival show, Sydney Chamber Opera offers a dramatic and provocative counterbalance of two works.
Leos Janacek's song cycle Diary of One Who Disappeared follows one man's compulsive love for a gypsy woman glimpsed in the pastures. Sung powerfully by Andrew Goodwin, his dreamy love of nature, his romance, his fractured moods and developing anxiety, are beautifully articulated in Janacek's expressive, fast-turning score with music director Jack Symonds on piano. But true to the times (1918), we hear little from Janacek's enigmatic woman/muse, Zefka.
Jessica O'Donoghue however gets fulsome reply in the premiering companion work, Fumeblind Oracle, first repudiating her name and then, angrily, all the female tropes of antiquity that have defined her sex. (It's never clear what she thinks of that obsessive tenor from a century ago.)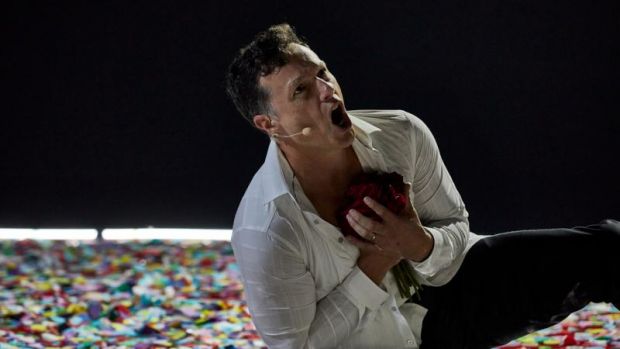 Composer Huw Belling and lyricist Pierce Wilcox artfully mirror Janacek's structure of short song fragments and verses often without logical sequence, with Symonds moving to a computer keyboard, and backed by electronics from Benjamin Carey, producing Belling's kaleidoscope of contrasting instrumental melodies and percussive.
On Jeremy Allen's large central circle, O'Donogue walks through its effective litter of brightly coloured leaves, exploring her female forerunners (just as the tormented Goodwin rolled around the same leaves).
Wilcox's poetic lyrics are sometimes incomprehensible, but we travel through the likes of Artemis, Elektra and Medea before she settles on Achilles and swears war on all presumptions of her self. Director Alexander Berlage brings drama and surprise to this inventive double bill but, while O'Donoghue is outstanding, our empathy for her and her journey stutters by end.
Martin Portus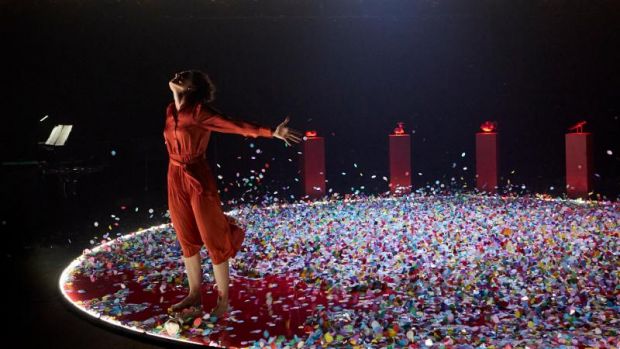 Photographer: Lisa Tomasetti