Gala – At Home
Yarra Valley Opera Festival. Presented by Gertrude Opera (online opera festival). 16-25 October, 2020.
The festival opens with a gala concert featuring performances from company singers over the past eleven years. The concert is hosted by Gertrude Opera's Artistic Director, Linda Thompson, with Maestro Brian Castles Onion and the artists perform from their homes from around the world. The hosts take the time to have a friendly chat with each artist prior to their performance and this creates a warm atmosphere. Some performances are more relaxed while others try to create the formality of the opera and the variety of music and approaches makes the concert interesting and dynamic.
The gala includes various extremely talented artists. Soprano Zoe Drummond (Adelaide in The Enchanted Pig) sets the tone of the concert with an exhilarating and moving rendition of "Come, now a roundel" (A Midsummer Night's Dream, Shakespeare/Britten). Mezzo soprano Na'ama Goldman (Israeli Opera, Glyndebourne Festival Opera, Grange Opera) provides a very intense and emotional performance of "Mon coeur s'ouvre à ta voix" (Samson et Dalila). The rich voice of tenor Yang Luo (Rodolfo in La Boheme) creates a stunning performance of "Io la vidi, al suo sorriso" (Don Carlo Méry/Verdi). Mezzo Soprano Ashlyn Tymms (Eurydice in Orpheus in the Underworld, Berenice in Love's Luggage Lost) is sensational in her performance of "Habanera" (Carmen Meilhac & Halévy/Bizet).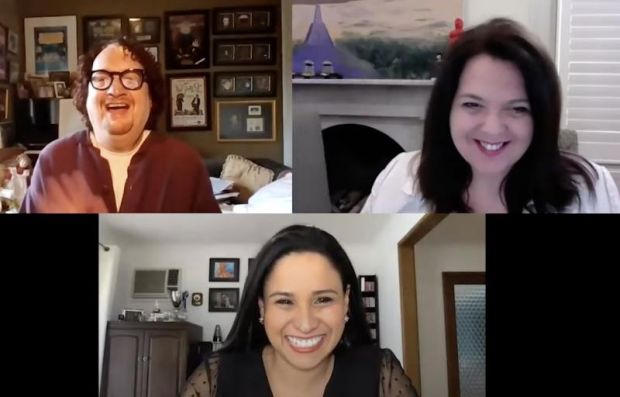 Tenor Leo Williams (Malcolm in Macbeth) performs a rare aria, Source délicieuse Polyeucte (Barbier & Carré/Gounod). His performance is shot in black and white which adds a wonderful haunting quality to his singing. Soprano Stacey Alleaume (Zerlina in Don Giovanni, Daughter in The Juniper Tree) and Mezzo Soprano Sophie Yelland (Donna Elvira in Don Giovanni) deliver an enchanting duet: "D'un coeur qui t'aime" (Racine /Gounod). Mezzo Soprano Naomi Flatman, (Flora in The Enchanted Pig) is exuberant in her performance of "Sein wir wieder gut" Der Rosenkavalier (Hoffmannstal/R. Strauss) and the impressive voice of baritone, NuoLin OuYang (Ensemble Macbeth) provides an exhilarating performance of "Io la vidi, al suo sorriso" (Don Carlo Méry/Verdi).
These are some of the highlights of Gala – At Home where the extraordinary talent of the numerous performers is exhibited with candour and intimacy. The festival offers a range of performances and events and is clearly aimed at raising the spirits of performers and audiences alike in these trying and challenging times.
Patricia Di Risio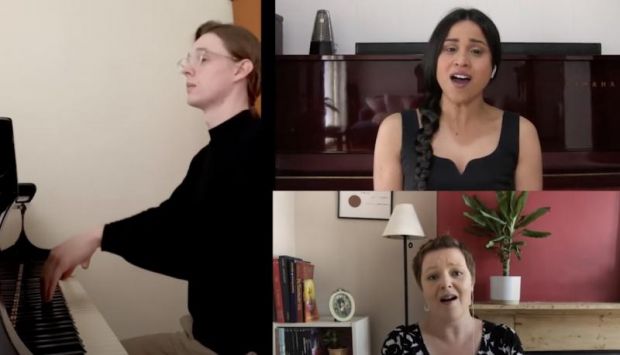 Images: Sarah Heltzel; Brian Castles-Onion, Linda Thompson and Stacey Alleaume; and Stacey Alleaume, Sophie Yelland and Adam MacMillian.