The Game's Afoot … or Holmes for the Holidays
By Ken Ludwig. Castle Hill Players. The Pavilion Theatre, Castle Hill Showground. April 8 – 30, 2016.
Paul Sztelma continues his ongoing 'fling' with Ken Ludwig in this quirky bit of farcical fun. Light on plot but heavy on melodrama and mayhem, the play gives both director and actors the chance to push pace, pitch and plausibility to their perplexing perimeters.
The play is set in the mid 1930s in the Connecticut mansion home of playwright-cum-leading-actor-cum-amateur-detective William Gilette (Jason Spindlow), whose Sherlock Holmes-style thriller has just closed after a long run … and an attempted murder at the final curtain call.
Gilette has invited the other cast members of the play (two married couples) to celebrate Christmas with him, his mother Martha (Elizabeth Gilbert), and despised theatre critic, Daria Chase (Brooke Davidson). Unbeknownst to any of them, he has also decided to try and solve the attempted murder himself.
If that sounds like a recipe for chaos, it is! Accusations of infidelity, protestations of love and skeptical suspicions mixed with flirtation, philandering and filibustering and can only end in pandemonium. Add a stormy night with thunder, lightning and power failures (Lighting James Winters) and the possibility of bedlam is limitless – almost!
On Sztelma's meticulous Art Deco set, complete with a revolving bar and multiple doors, the cast establishes their characters quickly, and, whilst the action takes a little while to build, by the second act the pace ramps up decidedly – as do the complications and the resulting demands on the cast.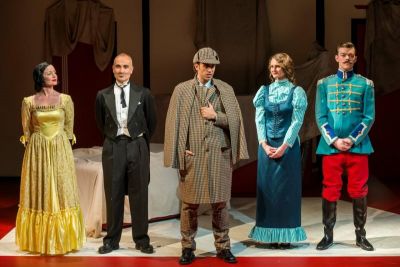 Spindlow typifies this change of pace as he transforms Gilette from self-indulgent egotist to distraught body hider, his former control descending to frantic agitation. Spindlow seems happiest in this kind of character and he finds all the fun of Gilette's consternation in fast movement and anguished expressions.
There is an almost Pythonesque sequence where he and Peter Gizariotis (who plays fellow actor Felix Geisel) attempt to hide a body. The action Sztelma choreographed for this is not easy to pull off, but they (and the body!) do so remarkably well.
Felix is the aspiring actor who never quite gets the leading role, and Gizariotis finds all the character's hidden insecurities in pandering obsequiousness in act one and confused hyperactivity in act two. His facial expressions and frenzied responses tell all. Elizabeth Chambers plays his wife Madge. Chambers finds the haughtiness of the role with an elegance that is never lost despite jealous accusations and pretty fast footwork in some scenes.
Robert Snars and Emily Richardson play newly-weds Simon Bright and Aggie Wheeler. Both establish early and quickly the shallow narcissism of their characters and sustain this despite some difficult angles and throttled dialogue in a bitter husband and wife struggle to the (almost) death in act two.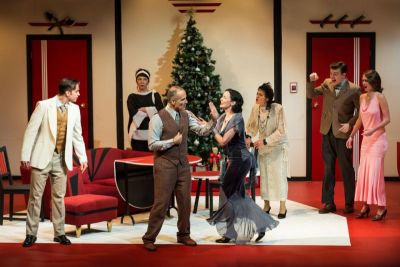 Elizabeth Gilbert is very funny as the fashionable dowager stage mother, Martha Gilette. Gilbert is an experienced performer whose uses her comic timing and sense of stage 'fun' to make this character appealingly entertaining.
Alexandra Ridden is the Virginia Woolf-style feminist police-woman, Inspector Goring, who fancies herself as a Shakespearian actor even while she attempts to find a body, let alone solve a crime.
But it is Brooke Davidson who bears the brunt of Ludwig and Sztelma's real stage mischief. She enters in a flouncing sweep of sarcastic scorn that propels her into a series of situations that range from provocative flirtation to angry rage. Davidson obviously relishes every aspect of the loud, melodramatic villainy of this role … and the precarious choreography that accompanies her unfortunate – and protracted – demise.
Though Sztelma himself admits this is not Ludwig at his best, the play is certainly an apt vehicle for Sztelma's penchant for sight gags, stage chases and the farcical frivolity that makes audiences laugh – while not realising the tight direction, even tighter timing and concentrated rehearsal that is required to make a production such as this work well.
Carol Wimmer
Photographer; Chris Lundie.